Chelsea could announce managerial appointment tomorrow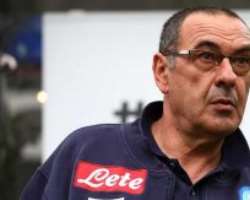 Chelsea agree deal with Napoli to appoint Maurizio Sarri.
Deal could be completed as early as Tuesday (tomorrow!).
The deal to take Maurizio Sarri to Chelsea appears to be on the verge of completion. Although, it has been for about a month now.
Antonio Conte has been doomed since our trip to St. James' Park. That was the final nail in his coffin. An completely unacceptable surrender when a glimmer of hope remained.
Sarri has been widely considered the frontrunner to replace him for some time now. It looks as though the deal is finally set to go through, with Football Italia  providing details of the proposed deal.
It's claimed that Chelsea will pay Napoli €5M to release Sarri from his contract. We will also promise not to sign any of their players this summer.
Club legend Gianfranco Zola is poised to join Sarri's back-room staff as assistant manager. That's the best signing we could make all summer, even if we managed to find the cash to activate Lionel Messi's release clause.
As per Football Italia, official confirmation could come on Tuesday. Let's wait and see.
TalkChelsea