Iran beat Morocco to win first World Cup Finals Tie In 20 Years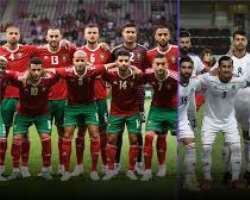 Morocco have lost their first game at the 2018 World Cup in a very painful manner as a late own goal by substitute Aziz Bouhaddouz saw the Atlas Lions fall 1-0 to Iran.
In a group that they are both seen as the outsiders, Morocco and Iran knew they both needed something from Friday's group opener and it was already looking like the spoils would be shared before the unexpected happened.
After a barren 90 minutes and the game headed towards stoppage time, Iran won a corner kick on the right flank and what looked like a harmless attempt was diverted into the net by Bouhaddouz who sent his header past his own goalkeeper and into the bottom corner.
It was quite unbelievable for Morocco who prior to Friday had gone on an 18-game unbeaten streak.
While Morocco leak their wounds, it is all celebration for Iran who are recording their first FIFA World Cup win in 20 years.
With this result, the two African teams that have been in action so far at the 2018 World Cup have both been defeated.
Nigeria will take center stage on Saturday and would hope to get a better result for the continent.