Tough start for Emery as Arsenal opens EPL against Man City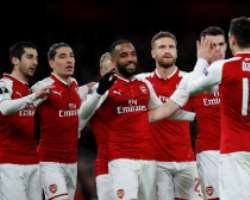 Unai Emery has been handed the toughest possible start to his tenure at Arsenal: A match against English Premier League champion Manchester City.
The Premier League fixtures for the 2018-19 season were published on Thursday and the Arsenal-Man City game was the standout on the opening weekend.
Emery has replaced Arsene Wenger, who was in charge of Arsenal for 22 years, and will be looking to make an immediate statement at Emirates Stadium against a City side that won the league by a record 19-point margin.
Tottenham is scheduled to play Fulham at home on the second weekend but it is still unclear if the match will be at the club's temporary home of Wembley Stadium, which it is using while White Hart Lane is being rebuilt. Tottenham has three away games in its first four fixtures.
Manchester United starts at home to Leicester and plays only one of last season's top six — Tottenham — in its first eight games.
The first Manchester derby takes place at City's Etihad Stadium on Nov. 10, with the second at Old Trafford on March 16.
Copyright 2018 The Associated Press. All rights reserved. This material may not be published, broadcast, rewritten or redistributed.