U.S., Canada and Mexico win right to host 2026 World Cup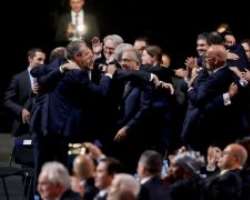 For the first time in 32 years, the men's World Cup is coming back to North America.
FIFA's 200-plus member associations gathered in Moscow on Wednesday and voted to award 2026 World Cup hosting rights to the United States, Canada and Mexico.
The North American bid – the product of over a decade of planning and campaigning – beat out one rival bid, Morocco's, by a vote of 134 to 65 .
And now eight years of excitement for the continent-wide extravaganza can begin. Why did the North American bid win?
The United Bid , as it dubbed itself from the beginning, was technically superior all along. It has pledged to deliver $11 billion of profit on over $14 billion in revenue. Both numbers will blow previous records out of the water.
And in contrast to Morocco's bid, and to all four men's World Cup hosts since 2010 – South Africa, Brazil, Russia and Qatar – the complex infrastructure necessary to host a World Cup is already in place in North America. Seventeen of 23 potential stadiums are ready as is. The other six merely require renovation.
The United Bid pitched certainty. Economic certainty. Logistical certainty. And it was uniquely qualified to handle an expanded 48-team World Cup, which the 2026 edition will be.
President of U.S. Soccer Carlos Cordeiro presents a joint United bid by Canada, Mexico and the United States to host the 2026 World Cup at the FIFA congress in Moscow, Russia, Wednesday, June 13, 2018. (AP Photo/Pavel Golovkin)
The North American proposal
Barring changes to the North American proposal , 60 of 80 games will be in the United States, with 10 apiece in Canada and Mexico. Those 60 include every game from the quarterfinals onward.
Canada and Mexico have proposed three host cities each: Toronto, Montreal and Edmonton will stage games north of the U.S. border, while Mexico City, Guadalajara and Monterrey will be match sites down south.
The U.S. must cut a list of 17 cities down to 10 over the coming years. It has proposed the Rose Bowl (Pasadena, Calif.) for the opener; Mercedes-Benz Stadium (Atlanta) and AT&T Stadium (Arlington, Tex.) for semifinals; and MetLife Stadium (East Rutherford, N.J.) for the final.
The other U.S. cities in the running are Baltimore, Boston (Foxborough, Mass.), Cincinnati, Denver, Houston, Kansas City, Miami, Nashville, Orlando, Philadelphia, San Francisco (Santa Clara, Calif.) and Seattle and Washington, D.C. The favorites among them would likely be Washington, Boston, San Francisco, Philadelphia, Miami, Seattle and Houston.
The successful bid also means that the U.S., Canada and Mexico will qualify automatically for the tournament. If Canada does not qualify in 2022, 2026 will be the nation's first men's World Cup appearance since 1986, and just its second ever. The bidding process
The U.S. Soccer Federation was the driving force behind the effort, one which originally aimed to bring the 2022 tournament to the States. That bid failed, controversially beaten by Qatar amid allegations of bribery and corruption.
Roughly six years later, the U.S. partnered with its North American neighbors to launch a revamped bid, and convinced FIFA to fast-track the process. Morocco jumped in on the eve of the deadline to give the heavily favored United Bid competition.
And over the past 12 months, to varying degrees, the North African nation seemed like a real threat to a North American World Cup. Rampant anti-American sentiment around the world, both inside and outside soccer circles, cooked up worry.
But United Bid officials took nothing for granted. They jetted around Europe and Asia for the final month-plus of the campaign, politicking and wooing heads of soccer federations from over 100 nations. They worked up until the final hour to win support, negotiating late into Tuesday night. And they did enough to bring enough votes – and the World Cup – home. Why hosting a World Cup is so important
Beyond automatic qualification, the 2026 World Cup will provide an unquantifiable boost to soccer in the United States and Canada. Fan interest will undoubtedly ramp up to all-time high levels. Attention paid by media, both local and national, will multiply.
And the mere prospect of the tournament will stimulate investment in the game at all levels. As Sunil Gulati, the former chairman of the United Bid, told Yahoo Sports earlier this month , competition among potential host cities for those 10 coveted U.S. spots will force many to commit money to sport development initiatives.
"We want to be able to talk to cities and say, 'Hey, you don't have to build anything here, but let's have an after-school program,'" Gulati said. "It's building a soccer infrastructure, not a building infrastructure."
So the 2026 World Cup will be invaluable. The many byproducts of hosting it will appear in increasing number over the next eight years, and for many years to come.
– – – – – – –