Chelsea: Alessandro Florenzi an almost impossibly smart transfer target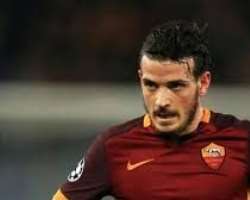 Chelsea have been linked with more managers than players this summer. Alessandro Florenzi is the sort of player the Blues should be pursuing, but probably will not.
Hopefully this Alessandro Florenzi rumour will not gain too much traction. The louder the transfer mill, the less chance of the deal actually happening. Florenzi satisfies two of Chelsea's biggest needs: he is versatile across the pitch in areas where the Blues need depth, and he represents the purpose, ambition and credibility Chelsea have lacked in this and previous transfer windows.
Florenzi has been AS Roma's homegrown version of Cesar Azpilicueta. Since coming up through Roma's academy has played a significant number of games in every position save goalkeeper, centre-back and striker. Most of his appearances have been at central midfield (92) and right-back (87). But most relevant to Chelsea are his 40 games (with nine goals and nine assists) at right wing and 17 games at left wing.
 Florenzi's versatility maps onto Chelsea's specific needs. The Blues need options on both wings, and someone who can also attack from central midfield is nearly perfect. Florenzi could do many of the things  Barrett proposed the now-back-on-the-market Nabil Fakir  could do earlier in the week, as well as everything Chelsea need to cover for the loss or downgrading of Pedro and Willian.
Florenzi is also a smart pick-up for a team in Chelsea's self-inflicted managerial predicament. He would be equally valuable under Antonio Conte, Maurizio Sarri, Slavisa Jokanovic or whoever ends up standing in the technical area next season. His range means he would not be manager-specific. The Blues could buy him and not have to worry about whether the next coach or the one after him or the one after him will have a place for him. Florenzi will be valuable to – wait for it – the team, not the man.
Alessandro Florenzi would give Chelsea options where they need them most, when they need them most. Squad rotation will be more important than ever with the Blues back in the Europa League. The demands of the competition combined with the possible late arrival of a new coach and new players means the team may use many lineups in many combinations to find the right suit. Florenzi adds many new combinations to the hopper, despite being just one man.
He could also contribute greatly to the team's leadership and mentorship. Other than a one-year loan at Crotone, he is a  one-club man for AS Roma . Even though this juncture of his career has him looking elsewhere, he can speak to the value of loyalty and cohesion at a club. This is an important lesson for Chelsea's academy players and loanees, who may be returning or aspiring to a club that is – to all appearances – in disarray.
He has 28 caps and 29 appearances in the Champions League and Europa League. He can be an important voice of experience as the Blues battle through the Europa League, and keep the team motivated for a return to the Champions League.
Alessandro Florenzi is not too good to be true, but  the transfer rumours  probably are. He is everything Chelsea should be looking for in a summer transfer, including coming into the final year of his contract when Roma will be most interested in selling at a reasonable fee.
Which all but guarantees the Blues will not make the move. If only this were reverse psychology. The only real question is which pale imitation the club will announce on deadline day.