FA Cup Final Will Be Entertaining - Mourinho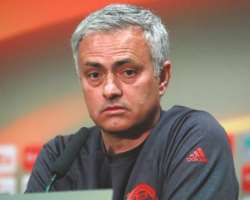 Manchester United Coach, Jose Mourinho is confident that the FA Cup final between Chelsea and Manchester United will be entertaining.
Mourinho also revealed that Romelu Lukaku is doubtful for the clash against his former club.
Lukaku has been battling with an Ankle Injury before the end of the EPL season, the Belgian scored 30 goals in all competition for Manchester United this season.
"Martial is fit and Lukaku we have to wait until the last moment," Mourinho said in his press conference on Friday.
"I don't want to lie to you and say he doesn't play and then plays, so Lukaku we have to wait."
Mourinho is confident that the match will be entertaining as Manchester United aim to end the season with a trophy after finishing behind Manchester City in the League.
"I still don't understand these words of 'entertaining'," said Mourinho. "You think 6-0 is entertaining? I don't think so.
"I think entertaining is emotion until the end, is open result until the end, is everybody on their seats until the end, both dugouts nervous and tense with the unpredictability of the result, that for me as a football lover, that's entertaining, so I think it's going to be entertaining."
Mourinho does not believe United past record in Cup finals has anything to do with the clash against Chelsea
"I think the winning mentality doesn't have to do with records or history in finals.
"Honestly, I think what we did in the past has nothing to do with tomorrow and the records don't play. What plays is tomorrow 11 against 11 and everybody trying to give their best."
Mourinho does not believe that the FA Cup final should determine the success of his team this season.
The Portuguese who won the Europa League and the Carling Cup last season said
"People can do what they want. The same applies to yourself.
"You can analyse the way you want to analyse and I can analyse the way I want, so everyone is free to go in the direction you want to go
Of course, it makes a difference, but one thing is to make a difference and to consider it good or bad because of one match."
​