RUSSIA 2018: Mutiu Adepoju Happy With Super Eagles Preparation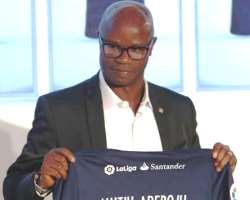 Former Super Eagles Midfielder Mutiu Adepoju popularly called the 'Headmaster' due to his aerial prowess while playing for Nigeria has expressed his excitement about the level of preparation put in place by the NFF for the Super Eagles ahead of the 2018 FIFA World Cup in Russia.
The quality of friendlies lined up for the team, the seamless arrangements for games and the absence of bonus row so far have made this our best preparation so far.
Hopefully, the team will reciprocate with a standout performance at the World Cup but we must not put them under any undue pressure by giving them targets. Let's take it one game at a time and see how it goes,"
The La Liga Ambassador also expressed his opinion on the 30-man provisional list released by Rohr, he also hailed the inclusion of NPFL hotshot, Junior Lokosa who has enjoyed a prolific campaign in the Nigeria Professional Football League.
"I have seen the list and I must commend the coach for assembling an interesting mix of young and hungry players who are ready to bring glory to the country. The most interesting name on the list is that of Junior Lokosa who has set the league on fire this season.
He deserves to be in that list and the coach has shown that he's abreast of happenings in the domestic league," Adepoju told Complete sport
He said: "I know he has to fight for his place in the team and the fact that he's new may count against him but if he's as good as or better than what we currently have in the Super Eagles, then the coaches should take him. However, if they drop him, the experience will certainly help him to become a better player so, either way, it's a win-win for Nigeria."
"I've been very impressed by the preparations for the World Cup and we must give kudos to the Nigeria Football Federation (NFF).