Diego Costa, Atletico Madrid spoil Arsene Wenger's fairy-tale ending at Arsenal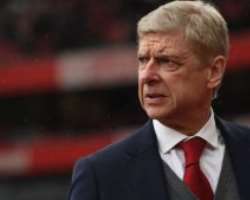 Three thoughts from the Wanda Metropolitano as Atletico Madrid beat Arsenal 1-0 on the night and 2-1 on aggregate to advance to the Europa League final in Lyon.
1. Costa haunts Arsenal, sends Atletico into the final
Diego Costa was never going to make it easy for Arsene Wenger to enjoy a perfect finale as Arsenal manager with a trip to the Europa League final and, not for the first time, the Atletico Madrid striker delivered the crucial blow to send the Gunners to defeat.
Costa's breakaway goal, three minutes into stoppage time at the end of the first half, secured a 2-1 aggregate semifinal victory for Atletico to book a place in the Europa League final in Lyon on May 16.
The defeat means that Wenger's reign as Arsenal manager will instead end at Huddersfield in two Sundays, with dreams of one last trophy dashed by the former Chelsea man Costa, who took his tally to four goals in seven games against the North London outfit.
The first-half loss of captain Laurent Koscielny to a torn Achilles was a huge early blow for Arsenal, but their downfall was ultimately caused by the failings that have dogged the final years of Wenger's reign.
Arsenal were weak, indecisive and lacking in quality when it mattered. They created precious few opportunities and their so-called big players such as Mesut Ozil failed to deliver.
Arsene Wenger's fairy-tale ending was not to be at Atletico Madrid.  Photo by Eric Verhoeven/Soccrates/Getty Images)
And whenever they found themselves in the final third, poor delivery from the flanks — most notably by Nacho Monreal — continually let Atletico off the hook.
Atleti deserved their victory, but Arsenal missed their chance to push them harder and their defeat means that Wenger's 22-year reign will end with a whimper.
2. Koscielny injury leaves Arsenal rudderless at the back
Koscielny's ninth-minute injury, confirmed to be a torn Achilles, is a huge personal blow for the Arsenal captain, who will now miss the World Cup with France and face a lengthy road back to fitness.
At 32, such a serious injury could threaten Koscielny's top-level career and Arsenal will clearly need to find a replacement for the centre-half this summer due to the lack of quality elsewhere in their back four.
The loss of Koscielny is a big one, both in the short and long term for Arsenal.
And his absence was immediately felt against Atletico, even though replacement Calum Chambers did well initially in his role against Costa.
Even with Koscielny at the heart of their defence, Arsenal have been prone to defensive mistakes and he was at fault for Atletico's equaliser at the Emirates last week, when Antoine Griezmann escaped him too easily before scoring.
Yet without Koscielny, there is absolutely no sense of organisation or leadership and it was no surprise when Costa raced through to score on the stroke of half-time.
Laurent Koscielny tore his Achilles inside of 10 minutes vs. Atletico Madrid.  Photo credit should read GABRIEL BOUYS/AFP/Getty Images
Right-back Hector Bellerin was hopelessly exposed by Costa before goalkeeper David Ospina made it too easy for the former Chelsea forward by going to ground too quickly.
Whoever comes in to replace Arsene Wenger will need to rebuild from the back, but the loss of Koscielny will only make that task more difficult.
3. Atletico close in on glory but again rivals Real set to upstage them
You have to feel for Atletico Madrid and their long-suffering supporters.
Diego Simeone's team now have a major European trophy within their reach after making it to the Europa League final, but even when the sun shines on Atleti, Real Madrid seemingly always find a way to put their neighbours in the shade.
The scars of losing Champions League finals against Real in 2014 and 2016 are still raw for Atleti, so if any club deserves a night in the spotlight, it is Simeone's team.
But with Real booking their place in the Champions League final this week for a third successive year, there is every chance that Zinedine Zidane's men will claim a 13th European Cup against Liverpool in Kiev and top anything that Atletico achieve in the Europa League final.
There is a silver lining to every cloud, however, and Atletico can at least look to take care of their own business and win the Europa League in Lyon on May 16.
If they do that, and Real beat Liverpool, then there is the chance to strike a blow against their neighbours in the UEFA Super Cup in Tallinn, Estonia, in August.
But however the next month plays out, the big target now for Simeone's players to is to win the Champions League in their own stadium in 12 months' time because they simply cannot allow Real to lift the European Cup in their new home.