Chelsea beats Swansea, Liverpool lags, and the Premier League top 4 race isn't quite over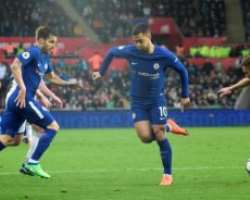 It has been a few weeks now since England collectively decided that the Premier League's top four race was over. Four weeks, to be exact, since  Tottenham beat Chelsea at Stamford Bridge  to leave the defending champions eight points off the Champions League spots. Four weeks since the Blues were dead and buried.
And four weeks, apparently, since Tottenham and Liverpool themselves decided the top-four race was over as well.
Since then, the Premier League's third- and fourth-placed teams have won a combined two league games in seven tries. They've dropped 11 points between them. And Chelsea, which hasn't dropped a single point since, has life.
The Blues, hours after Liverpool settled for a stalemate at home against Stoke, went to Swansea and won, 1-0, to reignite the battle for Champions League qualification. Cesc Fabregas' early goal allowed them to pull within two points of fourth.
But of course, it's a bit more complicated than that:
2. Manchester United — played: 34 | points: 74
3. Liverpool — played: 36 | points: 72
4. Tottenham — played: 34 | points: 68
——————————————————————————
5. Chelsea — played: 35 | points: 66
Two points separate the London rivals in fourth and fifth. But Chelsea's best top-four hope might be surpassing Liverpool. The Blues and Reds clash next Sunday at the Bridge. A win then, and three more points in its game in hand against Huddersfield the following Wednesday, would bring Chelsea level.
The main barrier there is goal differential. Liverpool's is far superior. Chelsea would need a win on the final day at Newcastle, and a Liverpool loss or draw on the final day at home against Brighton.
Tottenham, meanwhile, has a game in hand on Chelsea and two on Liverpool. It can re-stretch its fourth-place lead to five points with a victory over Watford at home on Monday. Its three remaining fixtures after that are West Brom (away), Newcastle (home) and Leicester (home). It would need to drop at least six points to give Chelsea a chance.
There's also still the chance, remember, that Arsenal could win the Europa League, and Liverpool could finish fifth but win the Champions League, therefore qualifying both of them for next season's competition. In that case, the Premier League's fourth-place side would get bumped to the Europa League.
So Spurs and Liverpool are still heavy favorites.  FiveThirtyEight  gives Chelsea just a 4 percent chance, even after its win at the Liberty Stadium. If it can't overcome those odds, it will stumble out of the Champions League for the second time in three years.
But it isn't resigned to that fate just yet.