Sanchez, Herrera lead Manchester United in FA Cup win vs. Tottenham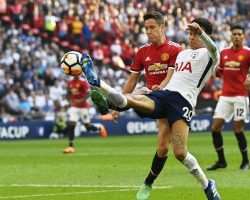 Manchester United overcame an early deficit to beat Tottenham Hotspur 2-1 in the FA Cup semifinals Saturday at Wembley Stadium in London, England.
Spurs got on the board first, getting a score for Dele Alli in the 11th minute. The play began when Christian Eriksen received a long pass up the right flank. Eriksen then fired a cross to his left, bouncing the ball over to Alli.
Alli crashed into the Red Devils' box and deflected the shot past United keeper David de Gea. Then United mounted its comeback.
Paul Pogba stole the ball from Mousa Dembele in the 24th minute. He dribbled toward the Tottenham box, before lifting a cross over two defenders toward the far post. Alexis Sanchez jumped up in traffic and finished the feed off with a header, beating Michel Vorm and tying the game at 1-1
 The Premier League teams stayed tied through the halftime whistle. Ander Herrera finally scored the go-ahead goal in the 62nd minute. Sanchez also had a hand in that score. He took the ball down the left side of the Tottenham box, before sending a pass to his right. Romelu Lukaku tapped the ball down toward Jesse Lingard.
Instead of touching the ball, Lindgard left it for Herrera, who blasted in a shot past Vorm.
"I am very happy. We deserved it," United manager Jose Mourinho told reporters,  according to ManUtd.com . "If we split the match into periods, we were the best team for many of these periods."
"Even when they had the ball, when we were winning we were totally in control. We lost control after the 1-0. At half-time we spoke – we came back late for the second half because we spoke a lot – and organized ourselves. When you play away from home the supporters were phenomenal."
 United battles Arsenal at 11:30 a.m. Sunday, April 29 at Old Trafford in Manchester, England. Tottenham faces Watford at 3 p.m. Monday, April 30 at Wembley Stadium.