Willian: Chelsea must make changes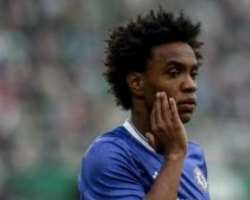 Willian insisted Chelsea "have to change something" ahead of next season and said that not even an FA Cup triumph can make up for the disappointment of their Premier League campaign.
Chelsea lie fifth in the table, 10 points adrift of fourth-placed Tottenham with only six games left to play, after losing more ground on their rivals with the 1-1 draw against West Ham at Stamford Bridge on Sunday.
Qualification for the Champions League now looks highly unlikely, and while the FA Cup could yet provide a source of cheer for supporters, Willian is adamant that Chelsea cannot be happy with the way this season has gone regardless.
"To lose isn't good," he told the Daily Mirror . "I think something will have to change for next season.
"If a team like Chelsea wants to reach the top four, we can't draw against West Ham at home. We can't lose against Tottenham at home.
"Of course we still have the FA Cup to fight for. We still have six games to fight for. But we have to change something."
Willian, however, was more philosophical when it came to pinpointing the reason for Chelsea's struggles.
"There's no reason why," he told the Daily Mail . "It's football. We have been unlucky. We are doing the exact same job as we did last season. But football is like that. For example, we were in control during the last game against West Ham and could have won 4-1 or 4-0, but we drew.
"We are Chelsea. We always want to win titles, but of course, we have to win the FA Cup to finish the season well. If we win this title, it will not make up for this season. I think our target was to stay in the top four and we are fifth. The only title we can win is the FA Cup so we go for that. Next season we will be back stronger to try to win again."
John Patrick Fletcher/Action Plus via Getty Images
Conte is expected to leave Stamford Bridge at the end of the season while the Chelsea squad could also face a summer of upheaval, with Eden Hazard and Thibaut Courtois both attracting interest from Real Madrid as several other big names enter the final year of their contracts.
Some have suggested that Chelsea should prioritise strong personalities in their summer recruitment to make up for the experienced veterans they have lost in recent years, but Willian believes the current squad is not lacking in leadership.
"I think we have this kind of player," he said. "Of course, these guys were very special here — [John Terry], [Branislav] Ivanovic, [Frank] Lampard. But we have Gary Cahill. We have [Cesar] Azpilicueta. We have David Luiz. Players. Leaders.
"To become a leader like that isn't in my profile. I'm just quiet. I want to go onto the pitch [and] play. But I think we can win titles when you don't have leaders if you train, if you have a plan to go into a game.
"From the videos of other teams, we can see the best way they can play. The mistakes they make. In this way, we can do something different, something special."