Arsenal survive CSKA Moscow scare, advance to Europa semis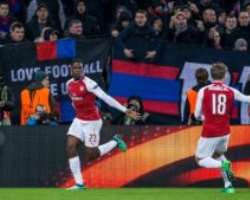 MOSCOW — Three points on Arsenal's 2-2 draw with CSKA Moscow, as Arsenal advance 6-3 on aggregate to reach the Europa League semifinals.
1. Arsenal survive scare, reach last four
Arsenal are safely in the semifinals of the Europa League although they survived a major scare in Moscow. When Fedor Cholov and Kirill Nababkin scored either side of half-time for CSKA Moscow another famous European night seemed on the cards. The Premier League side gathered themselves impressively though, Danny Welbeck giving them breathing space and Aaron Ramsey earning them a 2-2 draw — and 6-3 aggregate win — with a last-gasp equaliser.
Neither side contrived anything close to an opening until the 27th minute, when Alexandre Lacazette found space after a quick break. Vasili Berezutski blocked superbly and, eight minutes later, Danny Welbeck centred just beyond Mesut Ozil when a more accurate ball would have given him a tap-in.
CSKA's prospects appeared to recede when Alan Dzagoev, their playmaker, left the field — presumably due to injury — but with the game's next action they threw themselves a lifeline. Konstantin Kuchaev clipped over an accurate cross from the left and Nababkin drew an excellent save from Petr Cech with a powerful downwards header. The rebound was gobbled up by Chalov, reacting much more sharply than Shkodran Mustafi, and now this felt like a contest.
Arsenal will have been relieved to hear the half-time whistle, CSKA exerting intense pressure after the goal without creating anything clear-cut. But remarkably, the visitors were undone again within five minutes of the restart. This time Cech should have done better than parry a speculative effort from Aleksandr Golovin out to Nababkin, who finished superbly from a narrow angle
Now CSKA teemed with belief and Cech instantly had to save a Golovin free kick to his left. There was a knife-edge feel to the tie now. Laurent Koscielny scooped over after a corner fell his way at the far post and Sergei Ignashevich blasted inches wide; the next goal would be decisive.
Welbeck found it 15 minutes from time with a superb finish. He spun Nababkin far too easily on the left flank before exchanging passes with Mohamed Elneny and bursting into the area. His finish, high past Igor Akinfeev, effectively ended the contest and now Arsenal could stretch CSKA on the break. Alex Iwobi and Welbeck could both have scored, before Ramsey, bursting through at the death and dinking in coolly, finished the job in style.
2. Arsenal play with fire again
Arsenal were eventually deserving winners of the tie but they had a brush with joining the week's list of big stories here. If a visitor from the future had explained, before this week's European games kicked off, that two of the Champions League and Europa League contenders holding three-goal advantages would find themselves pegged back then it would not have been unreasonable to assume the Gunners were one of them. To their credit, Arsene Wenger's men put paid to that idea but without offering much suggestion that they can outgun better opponents as the Europa League reaches its business end.
Welbeck has his critics but, perhaps buoyed by his two weekend goals against Southampton, was Arsenal's most dangerous attacking threat. There was a signpost to his goal a few minutes prior, when a burst up the left flank left CSKA wing-back Nababkin for dead, only for Welbeck to misplace his final ball. He has been Arsenal's man for the Europa League, also scoring twice in the second leg against AC Milan, and it is a worthy moment of recognition for a player whose career still tends to defy easy definition.
There were wobbles elsewhere, Jack Wilshere continuing to look half a yard off the pace in midfield and Cech making another potentially costly error on the second goal. Mustafi looked sluggish on the ground too, even if Arsenal generally marshalled the threat of quicksilver CSKA forward Ahmed Musa well. A major concern for Wenger will be the way in which his team recoiled when put under serious pressure; he will also reflect that, as in the round-of-32 tie with Ostersunds, his team simply made life difficult for themselves from a comfortable position. An opponent like Atletico Madrid will not give them that luxury in the last four; it is a problem for another day but Arsenal's biggest challenges of the season are still to come.
Arsenal made it hard work but advanced to the Europa League semis.  Photo credit should read KIRILL KUDRYAVTSEV/AFP/Getty Images
3. CSKA impress on and off the pitch
An impressive CSKA side were not too far from causing a famous upset here but there was encouragement to be taken by everyone with a stake in the evening. Much of the build-up to this tie had focused on off-pitch issues. This was, fairly or not, seen as a test for Russia and its capital city in light of recent political events and the ongoing concerns about hooliganism in the World Cup host nation. The security forces were out in large, visible numbers but there was no sign of trouble around the ground or in the city. This venue had, of course, hosted Manchester United earlier in the season with no flashpoints and it had never really seemed likely that the situation would be different six and a half months on.
The real story, instead, came on the pitch even though CSKA had barely laid a glove on Arsenal before Chalov's 39th-minute opener. That close-range finish turned hope into belief inside CSKA Arena, which throbbed with energy from then onwards and erupted when Nababkin blew the tie wide open. In some ways Dzagoev's substitution proved a blessing; Vitinho, his replacement, posed a much more direct threat down the flanks and Arsenal suddenly found their defence turned around on a regular basis.
Welbeck's decisive contribution caused the optimism to seep away but, if CSKA and Russia itself really did have anything to prove tonight, they did so on all counts. Viktor Goncharenko's side looked a far more rounded side than the soft-underbellied outfit that Arsenal tore apart at the Emirates, and clawed plenty of respectability from the tie. Meanwhile an intense, involved atmosphere carried no hint of menace whatsoever. It was an optimistic note to cap a week of sometimes hyperbolic build-up and by the end there were few reasons for anybody — even the defeated home side — to depart with a sour taste in the mouth. If perceptions about Russia's World Cup hosting capability were, for whatever reason, alleviated slightly then the evening served a useful purpose.