Gianluigi Buffon rips ref over Real Madrid penalty: 'He has a trash bin in place of a heart'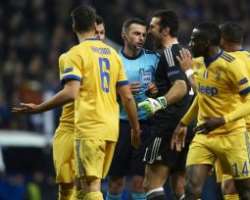 Gianluigi Buffon was knocked out of the Champions League , perhaps for the final time, in the cruelest of ways on Wednesday night. Real Madrid beat Juventus to advance to the semifinals on a controversial 97th-minute penalty . Buffon protested furiously, and was sent off in the aftermath .
But that was only the beginning of his fury. After the match, Buffon let the world know what he thought about referee Michael Oliver's decision to award that penalty. In short, he was not happy.
He reportedly went on and on, speaking both on TV and to writers. He questioned Oliver's character and levied criticism that bordered on personal attacks.
"The referee did what he had to do: the problem is just that," Buffon said . "He had no sensibility, no serenity. It means you don't know where you are, what teams you face, what football is. You don't really know s—."
He also hypothesized that Oliver must have a trash bin in his chest instead of a heart :
"A human being cannot knock a team out after such a match with such a dubious scene. Instead of a heart, he probably has a trash bin. If you don't have the personality, you should stand in the stands with your wife, eat fries, and not referee this game."
Here's more from Buffon's TV interview, as translated by football-italia.net :

"It was a tenth of a penalty.
"I know the referee saw what he saw, but it was certainly a dubious incident. Not clear-cut. And a dubious incident at the 93rd minute when we had a clear penalty denied in the first leg, you cannot award that at this point.

"The team gave its all, but a human being cannot destroy dreams like that at the end of an extraordinary comeback on a dubious situation.

"Clearly you cannot have a heart in your chest, but a garbage bin. On top of that, if you don't have the character to walk on a pitch like this in a stadium like this, you can sit in the stands with your wife, your kids, drinking your Sprite and eating crisps.

"You cannot ruin the dreams of a team. I could've told the referee anything at that moment, but he had to understand the degree of the disaster he was creating. If you can't handle the pressure and have the courage to make a decision, then you should just sit in the stands and eat your crisps."
Nobody from Juventus was happy. The club's president spoke after the game, and called for the introduction of video review in the Champions League. But VAR wouldn't have overturned that call . And in the end, it was probably the correct one , despite Juve's understandable anger.