South African referee rejected $30,000 bribe to fix Plateau United, USM Alger game: Reports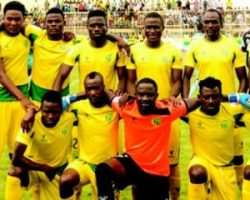 Reports in the South African media allege that one of its referees, Victor Gomes rejected a $30,000 (about N10.8 million) bribe to fix the CAF Confederation Cup match between Plateau United and Algeria's USM Alger.
Plateau United won the first leg second round fixture played in Lagos on Saturday by 2-1.But according to TimesLIVE, Gomes was approached to fix the result of the tie, but rebuffed those advances and has reported the matter to the Confederation of African Football (CAF).
TimesLIVE reports that it has verified the incident from two independent sources' though which' if any' of the clubs is involved remains a closely guarded secret while the matter is under investigation by CAF.
Gomes was in Lagos along with his assistants Johannes Moshidi and Athenkosi Ndongeni' and regular South African Premier Soccer League referee, Thando Ndzandzeka' who acted as the fourth official.
The report added that they were approached before the game on Saturday with an offer of US$30'000 (R362'822) to fix the result' but immediately turned down the approach and reported the matter to CAF.
It is unclear at this stage who were the parties involved in trying to initiate the fix' one of the clubs or betting syndicates' details that will likely come out when CAF release their findings into the incident.
Plateau United won the game 2-1' but now face a difficult away trip in the second leg on April 17' which will be officiated by Maguette N'Diaye from Senegal.
The attempted manipulation of referees is a long-standing problem on the African continent and just recently South Africa fell foul of this.Ghana referee Joseph Lamptey was found guilty of match-fixing in South Africa's 2-1 FIFA World Cup qualifier victory over Senegal in November 2016.
He did this on behalf of betting syndicates and when the match was forced to be replayed by FIFA' South Africa lost 2-0.
One of South Africa's top former referees' Jerome Damon' has also previously spoken of finding "a bag of cash" in his hotel room on one away assignment in an attempted bribe that he flatly refused.