Champions League: Roma overwhelm Barcelona; Liverpool crush Man City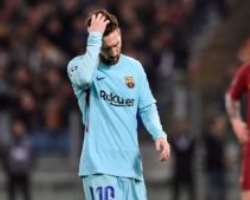 Roma have pulled off an extraordinary comeback to knock Barcelona out of the Champions League, winning 3-0 at home to reach the semi-finals by overturning a three-goal deficit from the first leg.
Roma entered the game as massive underdogs after losing the first leg of their quarterfinal 4-1 against a Lionel Messi-led team that was one of the big favourites to win the competition.
But they advanced on away goals after centre back Kostas Manolas scored the decider with a header from a corner in the 82nd minute amid a deafening atmosphere inside the Stadio Olimpico.
"It wasn't luck. This is what happened," Roma coach Eusebio Di Francesco said. "But this isn't enough. We can't be satisfied. This squad needs to aim for (the final in) Kiev. This is an extraordinary squad. Why shouldn't we aim to get there?" Di Francesco acknowledged before the match that his team needed a "miracle" to advance, and they got the start they needed when Edin Dzeko controlled an over-the-top pass between two defenders after six minutes and poked in his sixth goal in this season's competition.
Then near the hour mark, Dzeko earned a penalty that Daniele De Rossi converted to set the stage for Manolas' late header.
Messi and fellow Barcelona forward Luis Suarez hardly threatened as Roma dominated possession for long stretches and stifled the Catalan club with high pressure.
Roma capitalised on its aerial threat through Dzeko and Patrik Schick and its stifling defence forced Barcelona into a series of uncharacteristic misplaced passes.
"We came here to try to win the match. But they were really, really strong," Barcelona coach Ernesto Valverde said through a translator. "They ran a lot of risks and we were unable to overcome their pressure.
"It's painful. It's painful for our fans."
It's the first time that Roma has reached the last four since it lost the 1984 final to Liverpool on penalties in its own stadium — and it's the third straight year that Barcelona has been eliminated at this stage.
Liverpool also reached the semi-finals after recovering from conceding a goal inside two minutes against Manchester City to win 2-1 thanks to second-half strikes by former Roma striker Mohamed Salah and Roberto Firmino. Only two clubs had previously overturned at least a three-goal first-leg deficit in the Champions League — Deportivo La Coruna beat AC Milan 4-0 after losing the opening leg 4-1 in the 2004 quarterfinals and Barcelona routed Paris Saint- Germain 6-1 after losing the first game 4-0 in last season's Round of 16. "Well when you lose a match like this you think about everything that went wrong. You analyse things," Valverde said when asked if would take the blame for the loss. "A week ago we were performing well. We scored four goals. The only thing I regret was today was a match in which we had a great opportunity and we didn't seize it." Roma captain Daniele De Rossi set up Dzeko's goal with a straight ball and the Bosnian striker muscled off defenders to shoot past Marc-Andre ter Stegen with his left foot.
Barcelona's only real chances of the first half came from two free kicks, both of which Messi missed high.
Suarez was so frustrated at times for not receiving enough balls that he slammed both hands on the pitch on one occasion.
Shortly after the half-hour mark, Roma fans protested for a perceived hand ball inside the area but it appeared that Samuel Umtiti used his chest to deflect a shot from Schick.
Dzeko was at it again after the break with a show of brute force, shrugging off Gerard Pique and Umtiti to approach the goal. Pique then grabbed Dzeko's left arm and tugged the striker to the ground.
The referee didn't immediately point to the spot but then showed a yellow to Pique and awarded the penalty.
De Rossi confidently struck the spot kick inside the right post and even though Ter. Stegen leapt in the right direction the goalkeeper had no chance. It was De Rossi's first Champions League goal since October 2015. Roma substitute Stephan El Shaarawy had a chance at Roma's third in the 79th but Ter. Stegen produced a brilliant save to deny the striker from close range. But three minutes later, the Barcelona goalkeeper had no chance when Manolas headed inside the far post.
Valverde waited until the final 10 minutes to use all three of his substitutions.
"We had enough experience on the pitch to solve things, I thought," the manager said, refuting the suggestion that his team was only trying to defend its first- leg advantage.
"No we didn't come here with that spirit," Valverde said. "We really do regret the fact that we lost but that's part of football. Of course we regret it for us, but especially for our fans, the people that we represent. It's going to be a tough blow."
AP