Oliseh Wins Legal Battle Against Fortuna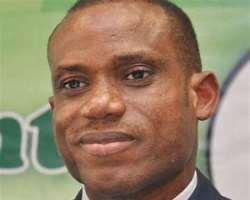 The Royal Dutch Football Association KNVB has ruled that Fortuna Sittard must pay Sunday Oliseh part of his Salary as Compensation
Oliseh was suspended by Fortuna and accused of insubordination and he also alleged that the club tried to involve him in a shady deal which he rejected.
"Dutch court finds Fortuna Sittard guilty for not being a good employer to Sunday Oliseh and sanctions Fortuna.
"The Federation gave the President of Fortuna Sittard (Isitan Gun) one week to pay me the compensation or to withdraw the request to terminate my contract. If he does withdraw it means he will pay more that the stipulated compensation fee."
Most importantly The Knvb Court stated that Oliseh has not acted as a bad employee!" Oliseh wrote on Twitter.
"Consequentially, negating false claims made by Fortuna. God is great!
"The court further sanctions Fortuna Sittard to compensate me (Oliseh) financially immediately.
"I am obliged to stay as a Fortuna employee till the month of May 2018.Thanks to all my well wishers for your valued support all through this injustice. Thankful to God for his blessings!"