Rumor: LeBron James will leave Cavaliers due to split with Dan Gilbert on Donald Trump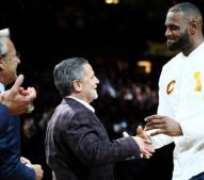 Chris Sheridan was out ahead on LeBron leaving the Heat for the Cavaliers in 2014. Maybe Sheridan just guessed correctly. He got a key detail wrong – where LeBron announce the decision. But the main point turned out to be right, so I think it's worth at least listening to Sheridan on LeBron's impending free agency.
Before the season, Sheridan reported LeBron would 100% leave Cleveland again due to his beyond-repair relation with Cavs owner Dan Gilbert. LeBron's camp quickly denied that, but more credible reporters have since lent credence to the idea of LeBron departing due to issues with Gilbert .
Meanwhile, Sheridan is doubling down on his assertion and adding details.
Sheridan at NJ.com :

When the information was given to me, my source said: "The entire NBA knows it. The only people who don't are the media."
The No. 1 reason why this is going to happen is because Cavs owner Dan Gilbert is a huge Trump supporter; LeBron is not.
LeBron James had made clear his thoughts on Donald Trump, most famously calling the president a " bum ."
Gilbert's allegiance to Trump might be overstated. Though he hosted a fundraiser for Trump and met with him, Gilbert also donated to Hillary Clinton and met with her . Rich people often support opposing candidates, setting up access no matter who wins.
But LeBron's perception matters most here. Gilbert is commonly seen as a Trump supporter, and if LeBron shares that view – accurate or not – that could dissuade him from re-signing with the Cavaliers.
There will be a lot for LeBron to consider this summer – which team can maximize championship count, legacy, money, where he wants he and his family to live and maybe the political leanings of his team's owner. I just have a hard time believing Gilbert's politics are the No. 1 consideration