Liverpool's stunning first-half salvo leaves Manchester City's hopes on rocks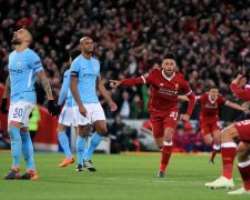 For Liverpool it was one of those nights when perhaps they reminded themselves why the banners fluttering on the Kop included one carrying the message "European royalty". All three of their goals were scored at that end. They swept Manchester City away during a first-half blitz and will go into the second leg in such a position of strength it is difficult to see how Pep Guardiola's side can possibly save themselves.
Difficult, though not impossible – and Jürgen Klopp will no doubt point out that Liverpool have already lost 5-0 at the Etihad Stadium this season. Yet it would be an extraordinary feat of escapology if Guardiola's team can find a way back from this position. One goal for Klopp's team in the second leg would mean City need five again and, judging by the way they defended here, Liverpool should be optimistic of adding to their total when they head down the M62 next Tuesday.
What a thrilling night this was for Klopp's men and such a crashing disappointment for the team that, lest it be forgotten, is 18 points ahead of them at the top of the Premier League. Liverpool refused to be cowed.
Mohamed Salah, Alex Oxlade-Chamberlain and Sadio Mané all scored within 18 minutes of one another and Klopp showed he was not mistaken when he said beforehand that sitting back was not an option.
Even when Liverpool raced into a two-goal lead, with only 20 minutes played, it did not seem to enter their minds that it might make sense in that kind of position to slow the game down. A more streetwise side – not least some of the great Liverpool sides who have won this competition – might have tried to take the sting out of the occasion. Not Klopp's team, though. Why put on the handbrake when everyone was having so much fun? Then a ball clipped in from the right and Sadio Mané headed in their third goal, with half an hour on the clock, and Liverpool still went searching for more. To hell with conservatism – this was the modern Liverpool: high on confidence, with a front three who could trouble any defence, let alone one with these kind of holes. (The Guardian-UK)