Barcelona 4 Roma 1: two own goals gift Catalans the win, Luis Suarez also scores in stinker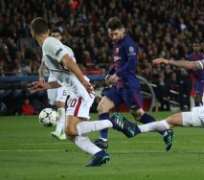 Barcelona were out of sorts, but Roma were out of luck. A deeply forgettable first leg sees the Catalan side all-but in the Champions League  semi-finals. And yet the scoreline fails to tell the tale.
Sluggish and slow, Barcelona laboured through a first half hour in which neither side attempted much apart from occasional dives in the penalty area.
Edin Dzeko and Andrew Iniesta both went down looking, while Alessandro Florenzi hit the deck in the area with Nelson Semedo in attendance. The Dutch ref was unmoved by all.
 After 38 minutes, Barcelona had the lead. Iniesta crossed, looking for Messi, and the luckless Roma skipper Daniele De Rossi slotted it past his own keeper.
M essi himself was down in the box soon after, but the referee frustrated Barcelona supporters. Roma fans were also disappointed shortly afterwards when a foul on Lorenzo Pellegrinin was given no more than six inches outside the penalty area.
That was about it for a forgettable first half in a muted Nou Camp. The most noise the crowd had made was their whistling to drown out UEFA's Champions League anthem before play. It was as poor an advert for the competition as Liverpool vs Manchester City was thrilling.
20 seconds after the interval, Roma should have been level. Barcelona were half asleep, Florenzi crossed, and Perotti put a free header wide from point-blank range.
Ten minutes later, they were left even further deflated. Ivan Rakitic crossed, Kostas Manolas stuck out a leg and clipped the ball onto his own post. It rebounded, hit Manolas again, and spun over the line. Samuel Umtiti, who was pressuring the Greek, claimed it, but it was quickly ruled a second own goal.
O n 59 minutes, an actual Barcelona goal worthy of the name: Messi produced a moment of real quality as he played Luis Suarez in with the outside of the boot. The Uruguayan hit a good effort, Roma goalkeeper Allison palmed it, but only into the path of Gerard Pique, who could not miss.
With the tie surely gone, Roma suddenly committed men forward and gave Barcelona a tricky time. Barcelona were idling and had several warnings as Kevin Strootman, sub Gregoire Defrel and Perotti all had chances.
O n 80 minutes, Perotti played a nice ball into the box, Edin Dzeko took  a great touch and fired home. With an away goal in the bag, Roma improbably had dreams of making this interesting back in Italy.
Even that modest hope was soon dashed, further defensive incompetence to the fore.
Barca sub Denis Suarez crossed, Roma's Federico Fazio inexplicably decided not to clear the ball first time and instead played a cushioned lay-off to Luis Suarez. The former Liverpool man did the rest.
I t has not been a good 24 hours for Italian football. Juventus can at least say that they were beaten by the brilliance of Cristiano Ronaldo . But Messi and company were miles short of their peak here, and Roma must know they will never get a better chance of beating Barcelona.
The second leg looks a mere formality. (The Telegraph UK)