Rohr Speaks On Poland Victory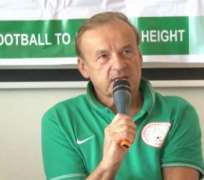 Super Eagles Coach, Gernot Rohr has expressed his excitement with his team after the slim victory over Poland in Wroclaw on Friday.
Victor Moses scored the only goal to give Nigeria a 1-0 win against Poland.
The German also admitted that the Super Eagles were lucky to beat the white and reds of Poland.
"We were lucky to have won this game. Poland created at least four good opportunities, and we scored a penalty," Rohr said during his post-match interview.
"We were a well-organized team, we had problems in our own penalty box a number of times and our opponents were better in the air, but our young goalkeeper, who made his first start did well.
"We won the match without our captain Mikel Obi. It was the first time we won a game in his absence.
"We lost at home against South Africa (Africa Nations Cup qualifier) when he was not available."
Rohr has also sent a note of warning to the players to avoid complacency, because there is a bigger task ahead of the team.
"Following this win against Poland, the sixth team in the FIFA ranking, I have warned my players against too much optimism," stated the former Bordeaux of France manager.
"Despite this win, we will not see ourselves as one of the favorites to win the the World Cup, even qualification to the knockout phase is uncertain.
"We will remain a humble team. In the game, two players sustained injuries and it was not a "friendly" meeting. No one wanted to let anyone go, both teams wanted to win, hence many fouls.
"We can learn from the European teams on the pitch, their positioning, discipline and organization. We must also remember that at the World Cup we will be one of the youngest teams."