Mary Onyali - Dont Expect Too Much From Team Nigeria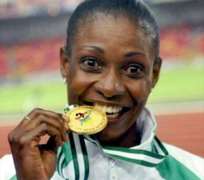 Legendary Nigeria Queen of the Track, Mary Onyali has told Nigerians not to expect too much from the team Nigeria contingent to the Commonwealth Games in April.
Nigeria will be participating in 10 Sports: Athletics, Basketball, Wrestling, Weightlifting, Boxing, Table-Tennis, Gymnastics, Para table-tennis, Para-Athletics and Para Powerlifting.
Australia are the host for the 2018 Commonwealth Games which start from April 4th to 15th.
Mary Onyali who won the bronze medal in the 4 × 100 m relay at the 1992 Olympic Games and in the 200 m at the 1996 Olympic Games. She also won the 1994 Commonwealth Games 100 meters title said the team will not be able to surpass their medal haul in the last edition because they are going to be involved in 10 sports compared to 15 in the last edition.
"We can't surpass our medal haul in 2014 because we are going to be involved in 10 sports in this 2018 Games unlike the previous editions, we went with 14 or 15 sports. There are more chances and opportunities in winning more medals when you go with more sports," she said.
"The situation may even be more critical as far as medal haul is concerned because Australia is in the most Southern Hemisphere and their summer which is supposed to be the warmest part of their season is not in line with our summer, their summer is on right now. Athletics is where most of our medals are won in major championship."