Enugu: National Grammar School Nike lifts Gburugburu Football Championship trophy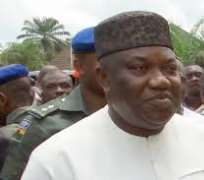 The football team of National Grammar School, Nike, has lifted the Gburugburu Secondary Schools Football Championship trophy after defeating Maryland Secondary School FC of Awgu 4-0 in Enugu.
The boys' final was an all Enugu zone affair, while the the girls was equally an all Awgu zone affair with both matches played inside the main bowl of the Nnamdi Azikiwe Stadium, Enugu.
The championship tagged "Gburugburu All Public Secondary School Football Championship started since Sept. 26, 2017 and ended on March 6.
William Gift and Samuel Isife gave Nike 2-0 lead in the 35th and 43rd minutes before the interval with Million Koma and Ikechukwu making it 4-0 in the 61st and 85th minutes of the game.
In the girls' category final, Rosary High School, Awgu, beat Community Secondary School Okpanku 2-0 to lift the trophy.
The championship was organised by the Enugu State Ministry of Youths and Sports in conjunction with the Post Primary Schools Management Board and the Science Technical Vocational Schools Management Board.
The initial stages witnessed the elimination of clubs from the six political zones which comprise Enugu, Agbani, Awgu, Udi, Nsukka and Obollafor with two qualifying for the finals in the state.
The Special Adviser to Enugu State Governor on Special Duties, Uwakwe Azikiwe, said the aim of the championship was to fish out football talents in the state.
"We will keep doing this every year and keep fishing out young people that are talented but it is unfair that most of the boys in the championship play for the already established state U-15 club.
"You can see that they are organised in all the department of the field and the next step for them is going into Rangers FC of Enugu.
"Meanwhile we are going to look into other sports to see how we can organise a championship like this as time goes on,'' he said.
Azikiwe said that the championship was an annual event.
"What matters is that this Gburugburu football championship is going to be taking place within the 12 month calendar year,'' Azikiwe said.
NAN reports that the trophy for the boys was presented by the special adviser to the governor on special duties, while the girls' trophy was presented by the Chairman of Aninri Local Council, Ezekiel Chukwu. (NAN)