President Weah - How Super Eagles Can Impress In Russia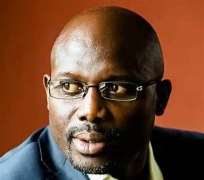 Liberian President, George Weah, has said that early preparations and full concentration is important for the Super Eagles of Nigeria to perform up to expectations at the 2018 FIFA World Cup In Russia.
The Former World Player of the year said in an interview with Journalists at the Aso Rock Villa after having a closed door meeting with President Muhammadu Buhari
"I think the Nigerian team are a model, we all followed them. I have played with great Nigerian players, I played against them. Now you have a new generation, the fact that they qualified (for the World Cup) is a good thing for Nigeria.
"But I hope that they will prepare very early because they are going to represent Africa and we will be there to watch them, for them to bring the trophy for the first time if it is possible.
"I want every African government to know that if you win the World Cup, it is a pride to Africa, not just to Nigeria. So, we must do everything to ensure that the players are not stressed, make sure they concentrate, make sure their incentives are given to them to motivate them.
"Some of the things you see at the World Cup, you will see an entire team go to represent a whole country and you will hear that one minister took the money, they did not pay these players and the players are causing problems.
"When players are going to camp, it is to relax and focus. And for them to be in camp, they must have everything there for them not to worry."
George Weah Won The African, European and World Player of the year award in 1995 becoming the first African to do so.