Manchester City humiliate Arsenal, Wenger must-go-calls ring loud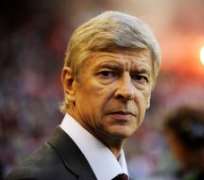 Once more the focus will brutally be on Arsene Wenger, but it also needs to be on the beauty of Manchester City, who carved Arsenal apart with a master sculptor's touch.
This was the last fixture Arsenal and Wenger needed after the dismal Carabao Cup final defeat and all their fears were horribly and, sadly, inevitably realised. It was a perfect storm; a crushing, devastating defeat and it leaves them an incredible 30 points behind the Premier League leaders, who opened the gap at the top to 16 points.
More importantly for Arsenal, they still trail fourth-placed Tottenham Hotspur by 10 points with  just 10 games to play and their already slim hopes of Champions League qualification, through the league at least – they can still qualify by winning the Europa League – have drifted away in the snow.
Manchester City coach Pep Guardiola with his players after the 3-0 win over Arsenal.
Photo: AP
"I'm sorry, but we are so good," tweeted the injured City defender Benjamin Mendy, and no one could argue with that, but amid his team's brilliant, incisive goals, Arsenal were a shadow of the team they aspire to be.
As good as City were, Arsenal were bad, and this is only heading in one direction for Wenger, who looked beaten throughout and that in itself sent out a message. He did not even make a substitution.
Advertisement
Wenger simply has to go at the end of this season, but those Arsenal players should also be held accountable for this. It is more and more the end of days.
Was it just the weather to blame for the large swathes of empty seats or were the Arsenal fans protesting? Was there a sense of inevitability, a sense of trepidation, as to what might happen against City? Were some just resigned to their fate and fear the chill of another defeat on such an occasion more than the biting cold of the evening?
If it was about travel, and getting to the stadium, which would have been an issue for some, it did not explain why the away end was full. And soon celebrating. Soon rubbing it in with chants of "sacked in the morning" aimed at Wenger.
It's grim times for Arsenal boss Arsene Wenger.
Photo: AP
Arsenal fell behind. It was a very City goal to score; a very Arsenal goal to concede. It was woeful half-hearted defending as Leroy Sane cut in from the left on one of those elusive, will-o'-the-wisp runs of his, but what about the powder-puff challenges of Hector Bellerin, then Danny Welbeck and Granit Xhaka, who tumbled to the turf, swotted away?
Then Shkodran Mustafi – he of the disaster in the Carabao Cup final – backed off and Sane rolled his pass across goal to Bernardo Silva. That was four Arsenal players bypassed and there were two more to come.
Bernardo shifted it back inside with, for some reason, Sead Kolasinac showing him that direction and Henrikh Mkhitaryan wafting a foot to block. Bernardo curled a wonderful left-footed shot high into the corner of the net, with Petr Cech grasping thin air.
Arsenal were down – and soon out. Wenger had spoken about anger and desire after Sunday's final, but that was the opposite. They had almost profited when Vincent Kompany diverted an Aaron Ramsey cutback towards his own goal, only for Ederson to collect and then the City goalkeeper had to react sharply to a powerful free-kick from Xhaka after Nicolas Otamendi hauled down Welbeck.
Otamendi was booked and Arsenal suddenly felt encouraged, with Bellerin breaking down the right before pulling the ball back to Ramsey, whose eventual shot was held by Ederson.
Arsenal's Petr Cech can't save a shot from Manchester City's Bernardo Silva.
Photo: AP
But then City scored again. And again. They carved Arsenal open with Sane once more at the heart of it as he easily beat Mustafi to pull the ball back to Aguero. For some reason, Laurent Koscielny was standing five yards off the striker, who simply picked out David Silva. One deft touch took him into space and he curled a left-foot shot high beyond Cech at his near post.
"Easy, easy," chanted the City fans. It really was. It was also fine, superb attacking play but made easier by such weak defending.
And it happened again. It was simply unacceptable from Arsenal, with City pouring forward down their right, initiated by Silva and Kyle Walker before Aguero turned sharply to find Kevin De Bruyne. He slid a pass into the overlapping Walker, who crossed low for Sane to beat Bellerin and tap the ball into the empty net, with Cech helpless.
The pattern carried with another De Bruyne set-up for Aguero, whose point-blank shot was blocked by Cech while, at the other end, the City defenders put their bodies on the line to divert shots in the way Arsenal seemed incapable of or unwilling to do.
The half-time boos were loud, from the home fans. "You're not fit to wear the shirt," some chanted.
Arsenal were also booed back onto the pitch for the start of the second half. It was the first time, at home in the Premier League, that Arsenal had conceded three goals in the first half.
Manchester City's Leroy Sane was in sublime form.
Photo: AP
Improbably, though, they quickly had the chance to claw one goal back as Bellerin played the ball into the penalty area, with Mkhitaryan shaping to shoot, only to be caught by Otamendi.
The penalty was given, but Pierre-Emerick Aubameyang made it so obvious where he was going to place it that Ederson simply dived to his left to push the ball away. It was the kind of lackadaisical approach from Aubameyang that summed up this Arsenal team.
Aubameyang had an early shot at redemption when he latched onto a ball hooked forward by Ramsey, but could only volley wide.
Cech denied Aguero, turning away his cross-shot and, as the snow fell, the final few Arsenal fans slipped away into the night. It is over.
 Telegraph, London