REAL NOT INTERESTED IN MESSI, ROONEY – PEREZ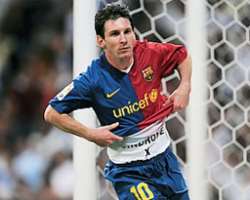 messi
Real Madrid president Florentino Perez has no desire to sign 'the second best player in the world' - which in his opinion is Barcelona's Lionel Messi - or Manchester United striker Wayne Rooney this summer.
Perez returned to the Bernabeu for a second spell last summer but Madrid ended the season empty-handed, despite an outlay of 250m euros.
Having signed the likes of Cristiano Ronaldo and Kaka prior to the 2009/10 campaign, Madrid has been linked with a host of top names again this year.
Perez famously signed Barcelona's Luis Figo in 2000 in a highly-controversial move in his first stint as president, but insists there will be no repeat this time around with Messi.
'Messi is the second best player in the world, after Cristiano, and it wouldn't be good to have them in the same team,' he said.
'This way, there is more competition,' he added, implying that Madrid would be by far the greater force with both players in his side.
New coach Jose Mourinho has apparently identified four new players in order to build a team to challenge both domestically and in Europe, but Perez claims only two or three players will arrive this summer.
'We already have the stars in our current squad, so we'll sign two or three great players to complement them,' he said.
Perez ruled out a summer swoop for Rooney, however.
'In Rooney's position we already have very good players,' he said.
Bayern Munich forward Franck Ribery is another who will not be arriving in the Spanish capital.
'Ribery is impossible because he just renewed his contract with Bayern,' he said.