Carabao Cup: Man City easily beats Arsenal as Pep Guardiola wins first trophy in England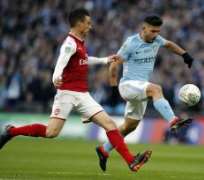 Pep Guardiola has his first silverware in English football and Manchester City has completed the first stage of a treble. In the end, victory over Arsenal in Sunday's League Cup final was comprehensive as Arsene Wenger's side self-destructed as it does so often when it really matters.
Yet there was a sense, as there has been a few times recently, of City not quite being at its best. Perhaps the issue is one of expectation, that it was so good in October and November that brilliance is expected as standard. Certainly by the time City fans began cheering them passing around Arsenal in the final 20 minutes, there was no doubting the team's dominance. Yet in the first half, City was as flat as it has probably been this season and Arsenal, but for one moment of weakness, could claim to have matched them.
Guardiola speaks always of the importance of process and, last season at least, he seemed to despair of the fixation on results but perhaps here he will allow himself simply to enjoy the success. After Monday's FA Cup defeat at Wigan Athletic of League One, it was important that defeat in a second Cup competition didn't cause the season to deflate. Perhaps that's a negative way to look at it, and no Cup should ever be spurned, but the heights that City hit in the run-up to Christmas mean this should only be a staging post to much greater success.
After half-time, City, without ever quite being at their inventive and imaginative best, overwhelmed Arsenal. Yet their first-half performance was flat enough to raise questions as to whether some sand may have entered the mechanism. Without Raheem Sterling, Guardola opted to field Kevin De Bruyne on the right in a 4-2-3-1. Last season the attempt to squeeze Ilkay Gundogan into a midfield already featuring Fernandinho, De Bruyne and David Silva was one of the reasons for City's winter loss of form and for a time it didn't work again here.
Arsenal had started relatively well but was undone by a moment of defending so feeble it would have been unfathomable had it not been the sort of weakness that so habitually undermines them. Claudio Bravo's long clearance was of a type that any center-back should head clear as a matter of course, but the slightest nudge from Sergio Aguero was enough to have Shkodran Mustafi spreading his arms and appealing or a free-kick rather than fighting for the ball and the Argentinian was able to run on and loft a finish over David Ospina. Everything positive Arsenal had done in terms of closing City down and disrupting their flow was rendered meaningless: it's so hard to stop City, and City so good at doing the difficult things, that to allow them to score with something so simple, so soft, is almost unforgivable.
The full repercussions of that slip-up soon became apparent after half-time as City upped its game to a remarkable degree. De Bruyne and Sane swapped flanks but it wasn't just that. There was more energy, more zip, more invention and Arsenal was unable for long periods to get out of its half. It was still, though, a moment of sloppiness that gifted City its second, Bernardo Silva left unmarked as a corner was pulled back to him. His shot was slightly scuffed, but Vincent Kompany turned it in.
 Three minutes later there was a third, David Silva turned by Callum Chambers far too easily before driving a low shot past Ospina. Even when far off their best, this City can do that to sides; their quality and incisiveness is remarkable. And yet the frustration for Arsenal must be the sense that this wasn't City at their best. This wasn't City on one of those days when they are unbeatable. This was a City some way below par, a City that offered its opponent a chance. Arsenal, though, even though it probably got its game-plan right in the first half, sitting deep in what was often a 5-4-1, frustrating City as Wigan had, lacked the discipline and the drive to take advantage. And once City began to play in the second half, it was helpless, a rabble to be routed.
For City, this ought to be little more than a prologue to greatness. Under Guardiola it should have far greater peaks to scale. The league title, surely, will follow. The question then is whether it can win the Champions League as well. It's a measure of just how good it is that it can seem, by the club's own standards, so uninspired and yet still beat the team sixth in the league 3-0.