Man United escape Sevilla with 0-0 draw thanks to heroic De Gea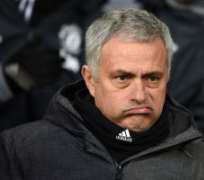 SEVILLE, Spain — Three points as Manchester United draw 0-0 with Sevilla in their Champions League round of 16 first leg.
1. Manchester United still alive in the Champions League
Jose Mourinho is experienced enough in this competition to know that Manchester United are still alive in the Champions League, but he will also know that his team are lucky to be heading home with the tie still all-square. The goalless draw in the Estadio Ramon Sanchez Pizjuan is not a bad result, especially when it could have been so much worse.
After deciding to bench Paul Pogba for the second time in the last four games, it was another of Mourinho's stars, David de Gea, who took centre stage. That the goalkeeper was United's man of the match by a distance tells you everything you need to know about how the game panned out.
Mourinho got to see his team with and without Pogba in the first half. Without, United were second-best with Luis Muriel forcing De Gea into an early save and Jesus Navas flashing a shot past the far post. After Pogba made his entrance after 17 minutes, replacing Ander Herrera after the Spaniard suffered a hamstring injury, little changed.
United had De Gea to thank for being able to end the first 45 minutes on level terms. On the stroke of half-time, the Spanish goalkeeper made an incredible point-blank save to keep out Muriel's header. It was so good that the striker made a point of congratulating De Gea as they walked off the pitch at the break. De Gea had already kept out Clement Lenglet's effort moments earlier, tipping his header over the bar.
All United had to show for their 45 minutes was one shot on target thanks to a speculative 25-yard shot from Scott McTominay — a positive on the biggest night of his short career — that was easily beaten away by Sergio Rico. The sight of Mourinho racing out of his technical area more than once to berate his players summed up what he thought.
De Gea wasn't required to do anything quite so spectacular in the second half, but it was not for want of the home side trying. By the end, the United goalkeeper had faced 24 shots. United managed four all night.
2. Outstanding De Gea saves United
De Gea has been so good for so long that it is only when he does something truly remarkable that he gets any real credit. Good saves are downgraded to decent because it's him, something that seemingly comes with the territory when you are one of the best in the world.
But his save to deny Muriel as the game edged toward half-time was good even for him. It was so impressive that the entire stadium gasped as it was replayed on the big screen. The Spain No. 1 had no right to get anywhere near it as Muriel arched his neck to power the ball into the net. That De Gea, back in Spain with United for the first time since 2013, got anything on it at all was incredible. That it was enough to divert the ball over the crossbar was almost superhuman.
TF-Images/Getty Images
A lot of the questions surrounding United this season have hinged on whether their big players are performing. Is Romelu Lukaku the striker they need? How do you get the best out of Pogba? But quietly, De Gea has got better and better. Still just 27 years old, he's probably not finished yet.
There will be talk again this summer about which players United need to turn them into a team capable of winning the Premier League and the Champions League. You could argue that keeping hold of De Gea is far more important than anyone they could sign.
3. Sevilla prove they are more than making up the numbers
The questions from the Spanish press to Mourinho at his news conference on Tuesday night were about how many United would score. Mourinho's Real Madrid won 6-2 here twice. Real Betis scored five at the Estadio Ramon Sanchez Pizjuan last month. Manchester City won in Basel 4-0 and Liverpool beat Porto 5-0.
Sevilla qualified for the knockout rounds despite conceding 12 goals in their six group games — more than any other team. Mourinho, though, warned that his team faced a tough night. He was proven right.
Some of the United fans in Seville were so confident that talk in the bars around the city on the day of the game was about who they could get in the next round. The discussions in the concourses at half-time will not have been so positive. The Spanish side, currently fifth in La Liga, rushed United out of their comfort zone. You might have expected nerves from McTominay, but Sevilla were so energetic that experienced heads like Antonio Valencia and Nemanja Matic even looked panicked.
Had their finishing been better or if De Gea had been good rather than great, they would be heading to Old Trafford on Mar. 13 as firm favourites to progress into the quarterfinals of the Champions League for the first time. As it is, the tie is still in the balance.