Arsene Wenger praises Pep Guardiola, admits he nearly joined Arsenal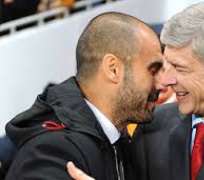 Arsene Wenger has revealed his respect for Manchester City manager Pep Guardiola, and says that he nearly signed the Spaniard for Arsenal when he was still playing.
Guardiola is one of modern football's most successful managers, but he only retired from playing in 2006, a decade after Wenger had taken the reigns at Arsenal.
Wenger admits that the Manchester City boss has done much better than he has in recent years, and confessed that he has great respect for the enterprising style of play employed by Guardiola throughout his managerial career.
"I think he has done much better than I have and he's knowing very well what to do," Wenger told beIN Sports . "He has exceptional teams and he is managing them very well.
"I think I respect what he does because he has a clear vision of the game, he has a positive attitude, a positive philosophy.
"Even if he doesn't win I have as much respect as when he wins because I think people have an influence in the game. It's very important to have a positive attitude towards the game."
The Arsenal manager also revealed that he once tried to sign Guardiola and that the Spaniard was interested in joining Arsenal.
"I spoke to him a few times, and he came once to my home when he was a player, because he wanted to play for Arsenal," said Wenger.
Guardiola's Manchester City are the runaway Premier League leaders at present, with a 16-point lead over closest competitors and city rivals Manchester United . The gap between City and Wenger's Arsenal is 27 points.
The two sides meet at Wembley in the League Cup final next Sunday, with City chasing the first trophy in a possible quadruple.