Why Manchester United Lost to Newcastle - Mourinho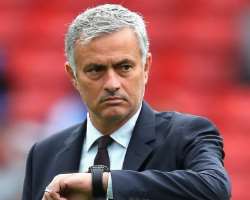 Manchester Lost to Newcastle United at St James' Park, Mart Ritchie scored the only goal of the match to hand Newcastle the maximum points in an enthralling match.
Jose Mourinho has hailed Newcastle for their dugged defensive performance, saying they fought to get the points.
Mourinho also noted that his team wastefulness in front of goal also contributed to the loss
Mourinho said in his post-match conference
"They fought like animals – I hope they take that as a compliment. The gods of football were on their side," Mourinho said during post-match interview.
"It wasn't going to happen for us today. Newcastle gave what they have and what they don't have, that's a beautiful thing in football.
"They fought for their point, a point is what they had in mind. We made a defensive mistake and when they were in front they had only one thing in mind and gave their lives to keep a clean sheet.
"My verdict is that we could've been here for 10 hours and not scored a goal. Newcastle played with their lives and defended with their lives.
"They got from us a defensive mistake and from a lateral free-kick they scored. The gods of football were clearly in their side. They must have an amazing feeling after giving absolutely everything."
Mourinho rued his side's wastefulness for another loss to lose further ground to Runaway EPL leaders, Manchester City.
"Score a goal. We had some [chances] with the score at 0-0. Alexis [Sanchez] had an open goal and then the countless opportunities of the last 20-25 minutes. The double [miss] of Martial is incredible in the last minute," Mourinho added.
Mourinho refused to blame Chris Smalling for his foul that led to the goal scored by Ritchie.
"A defender has to concede free-kicks now and again. It was an intuitive thing. Players [who do it] in the box deserve a card more than [Chris] Smalling in that situation. Clearly I know we lost the duel in the air and it's difficult to accept that."