Sorry Mr. President, The Netherlands First: Dutch speedskating fans troll Donald Trump with message on flag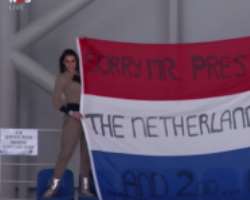 The Olympic speedskating competition is only one event old and the Dutch are already back to their dominant ways. Three women wearing orange finished 1-2-3 in Saturday's 3,000-meter final with Carlijn Achtereekte taking gold, Ireen Wust winning silver and Antoinette De Jong nabbing bronze.
Achtereekte beating two-time gold medalist Wust and her heir apparent De Jong was a pretty big story in the Netherlands, but the main takeaway for the rest of the world was two Dutch speedskating fans who unfurled a message to U.S. President Donald Trump at the top of the arena.
"Sorry Mr. President," read the message written on the Dutch flag. "The Netherlands FIRST … and second and third!"
The message, of course, was a funny reference to the nationalist "America First" policy Trump has been pushing both home and abroad . Dutch speedskating fans had a message for Donald Trump. (Screenshot via Reddit)
It's unclear what happened to these women after bringing out the flag. The International Olympic Committee does not allow political statements to be made and fans have been admonished for much less in the past .
One Dutch political cartoonist enjoyed the display, though.