Ozil Signs New Arsenal Contract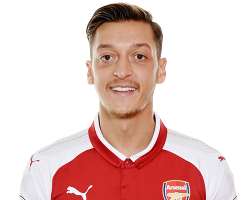 Arsenal Midfielder, Mesut Ozil has ended months long Speculation about his future at the Emirates by signing a New Contract.
The Germany International has been expected to leave the gunners like ex teammate, Alexis Sanchez who joined Manchester United In the January Transfer Window.
Ozil has signed a new three and the half year deal to extend his stay in North London to 2021.
"We're delighted to announce that Mesut Ozil has signed a new long-term contract with us," the club confirmed via their official website .
"Congratulations Mesut - here's to many more years of success."
The Germany international said on Twitter: "Proud to announce: I signed dat thing….three more years with Arsenal!
"It's been one of the most important decisions of my footballing career and that's why I had to think hard and talk with everyone who's important to me…good things take time!
"In the end I let my heart decide.
"As I always said, I feel at home here and I'm highly motivated to achieve big things in the next few years. Once a Gunner, always a Gunner!"