Conte bemoans Chelsea's 3-0 thrashing at the Birdge, says I am overachieving with team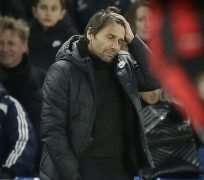 •  Manager speaks out after 3-0 home defeat by Bournemouth 
•  Conte believes top-four finish would be 'a great success'
Antonio Conte  said he was overachieving as Chelsea's manager but, after seeing his side suffer their heaviest home defeat in almost two years, admitted he was concerned about the champions' ability to finish in the top four.
Bournemouth wrecked Chelsea's eight-match unbeaten league run  with three goals in a 16-minute spell to leave Chelsea only two points above Tottenham Hotspur in fourth place, draining all the optimism generated by the  £18m signing of Olivier Giroud  earlier in the day. Conte's team remain in the Champions League and FA Cup but this was an untimely defeat given recent murmurings of discontent at the club's transfer policy.
The manager said he had predicted this would prove a "difficult night", with preparations disrupted by Michy Batshuayi's departure for Borussia Dortmund but refused to cite excuses.
Asked whether he and his players have been overachieving of late to compete, until recently, on four fronts, he replied: "Yes, I think we are doing more. We are doing more, yes. But we must be worried [about finishing in the top four]. It won't be easy, and we have to fight. I'm ready to do that and I think the players are starting to understand that this season we have to struggle for a position in the Champions League.
Callum Wilson sparks shock Bournemouth rout of Chelsea
"The players, until now, have been great with their commitment and their behaviour. If they hadn't done that, our place in the table would be worse. If we want only to dream and not see the reality … in this case, I can tell you now we can fight to win the title this season. Rather, it will be very important to look at the reality and know that, if we are able to reach a place in the Champions League, it will be a great success for us."
Chelsea  have sacked managers in February and March under Roman Abramovich's ownership, those managers being Luiz Felipe Scolari and André Villas-Boas. Asked whether the hierarchy at the club were dreamers or realists, Conte replied: "I don't know. But my task is to try to be more realistic and try to transfer this to the players, because the players, if they know and understand the danger … The pressure is normal. It's normal if you are Chelsea's coach and I'm trying to do my best.
"We are doing everything and I'm exploiting this squad at the maximum level. But, if someone doesn't agree about this, I'm here. I have to accept every situation. I'm very relaxed about this. I know I'm doing a great job, a great work, me and the staff and the players."