Suspicious officiating helps Nassarawa United in 2-1 over Rangers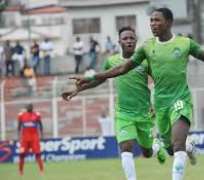 Hosts Nasarawa United Football Club of Lafia beat Rangers International FC of Enugu 2-1 on Monday in a 2017/2018 Nigeria Professional Football League (NPFL) Match Day 5 fixture overshadowed by controversy.
The News Agency of Nigeria (NAN) reports that in the match played at the Lafia Township Stadium the hosts took an early lead.
They scored through Abubakar Abdullahi who capitalised on poor defending by the away side to score.
But the home team failed to extend their lead as the visiting side kept them in check thereafter.
Rangers kept pressing for an equaliser and got it in the 84th minute through Rangers' skipper Odita Okechukwu who nodded in a cross.
However, in the second minute of second half added time, the hosts were awarded a penalty kick for a tackle on Nasarawa United's Suleiman Mohammed, and this drew some controversy.
After the uproar, Nasarawa United's Seun Sogbeso converted the penalty kick to make it 2-1 in the third minute of added time.
Three minutes later, Okechukwu again capitalised on poor defending to score from close range, but what should have made it a brace for him was cancelled by the centre referee.
A louder uproar trailed this, but it was all to no avail as the hosts ended the game with a win.
Gbenga Ogunbote, Head Coach of Rangers, later told newsmen that the way the game went was a dismay to him.
"The outcome of this fixture is a dismay to me and I challenge sports reporters to do the needful by reporting how the game was played out.
"Yes, the game has been played, won and lost, but if you are truly independent reporters, I dare you to write what you have seen.
"As for the performance of my team, I will say it was not a bad one. We are trying to put up a formidable team to put up a good outing this season," he said.
Kabiru Dogo, the Head Coach of Nasarawa United FC, on his part said the referee was in a better position to see what happened and take decisions.
"We went to Enyimba and we remember how they scored against us in the last 10 minutes.
"Even when we cried, the referee told us that he was in a better position to see what happened. So, congratulations to my team,'' he said.(NAN)