Morata v Lukaku: Who has been more impressive so far this season?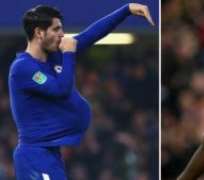 It was one of the biggest stories of the summer transfer window.
Manchester United were reportedly pursuing out-of-favour Real Madrid striker Álvaro Morata ahead of their pre-season tour in the States while Chelsea were seemingly closing in on highly-rated Everton striker Romelu Lukaku.
That was until Thursday, July 6, when news broke that the Red Devils had swerved expectations and agreed a British record £75m fee to bring Lukaku, leaving Morata, and United's Premier League rivals, completely in the dark.
The Spanish striker was so convinced about a move to Old Trafford, he'd dyed his hair red in preparation for the eagerly-awaited announcement but after José Mourinho savagely decided against a reunion, Antonio Conte swooped for his "first choice's" services.
Lukaku was announced as a Manchester United player on Monday, July 10 and Morata, with a nicely, yet coincidentally, shaven head, was presented as Chelsea's club record £60m acquisition later on in the month.
Six months on, both have enjoyed positive starts to life as part of their new teams, extra plaudits must go to the latter for adapting to the English game adequately.
Both have been ever-present for their respective teams since the start of the season. Álvaro Morata has missed four of Chelsea's 24 Premier League fixtures, two through suspension and the others due to injury and rest.
The top 10 highest earners in the Premier League
Alexis Sanchez completed his move to Manchester United and in the process became the best paid player in the Premier League. We've taken a look at who makes up the top 10.
Meanwhile, Romelu Lukaku has been absent for just one of Manchester United's 24, the New Year's Day visit to former club Everton, after a nasty head collision in the final game of 2017 against Southampton at Old Trafford and pips Morata in terms of goals scored.
Although Lukaku's 11 league goals is one higher than his Spanish counterpart's, the fact that he's played three more matches makes it tough to compare their impact based on goal output, especially because it means Morata boasts a better goals-per-game average of 0.50.
Both men have been doing what they were bought to do, scoring goals, but each of their combined total of 21 have been netted inside the area as they have strengthened their 'target man' personas.
Sixty per cent of Álvaro Morata's Premier League goals for Chelsea have been headers while Romelu Lukaku has bagged back-to-back decisive headed winners against Bournemouth and West Bromwich Albion. Maximum
One of those six headers, of course, was the winning goal, and his first since September, on November 5 as Chelsea beat Manchester United 1-0 at Stamford Bridge which has to be taken into account, however, Antonio Conte's January hunt for a striker with aerial prowess suggests Morata isn't fulfilling his role to the maximum.
Edin Džeko is reportedly nearing a move from AS Roma to the Blues – yes, that's who I'm talking about rather than Andy Carroll and Peter Crouch – after Chelsea's current No.9 has been enduring a frustrating spell up front, most notably missing key chances against Arsenal in the London rivals' first two clashes this month.
In fact, Morata has missed 14 'big chances' in the league this term, a superior total than Lukaku's ten, and he's also been caught slumbering in an offside position nine more times as both sets of fans have been vocally annoyed by their frontmen's low work rate at different stages of the campaign.
Considering Antonio Conte is already looking to splash more cash on a new striker, José Mourinho may be the more satisfied with his new striker, however, it could easily imply how the Italian feels about Morata's current back-up, Michy Batshuayi, rather than Álvaro Morata.
Morata came under the spotlight after high-profile misses against Arsenal
Their contribution to goals in the Premier League has been inseparable but Romelu Lukaku's output does stretch out to other competitions, scoring a respectable four goals in Manchester United's six Champions League group games and in both FA Cup ties off the bench so far against Derby County and Yeovil Town.
Morata boasts a better goals-per-game average of 0.50
Morata's isn't nearly as impressive with just a total of two in five Champions League appearances and three Carabao Cup clashes, one in each competition, even though the 25-year-old has European experience already from his time with Real Madrid and Juventus.
My verdict? With one year on his equal and, on the whole, a simply better record this season, Lukaku edges it so far, even though he is currently on a five-match goal drought in the Premier League, the longest run of the two players this season.
Romelu Lukaku has been accused of being a flat track bully
Every striker endures sticky spells, and both men have suffered through them, but the big Belgians pace, power and link-up play has made him undroppable in one of the most exciting attacking units in world football.
He'll only improve with age as well and the other promising stars around him such as Paul Pogba, Anthony Martial and, of course, Alexis Sánchez will certainly help his development.
You can say the same for Morata, but Lukaku has proved to be the better signing based on contribution so far – let's set what the second half of the season holds.