Salisu Yusuf - I Never Lost Faith In My Players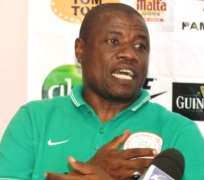 Home-Based Eagles Coach, Salisu Yusuf has praised his players for passing their most difficult test in the Tournament by beating a stubborn Angola side which took the lead in the first half, before the Super Eagles fought back to win 2-1in extra time and set up a semi-final clash with Sudan on Wednesday.
Yusuf said he never lost faith in his players, he also reiterated his support for the under-fire striker, Anthony Okpotu who has been criticised for his wastefulness in front of goal.
"Today's (Sunday) game was the most difficult for us in the tournament as we fought for 90 minutes against a good team,"
"We never lost faith in our players because we were creating chances and the more you do that the chances of scoring are higher."
"I'm so confident about Anthony Okpotu and we believe in him and he has been scoring despite missing some chances, but he will be much better in the coming matches," the former Kano Pillars coach stated.
"We never underestimated Angola. They play good football and are a good team, but the important thing was to win and we won."
Similarly, Angola Coach, Srdan Vasiljevic has blamed ''Unfavourable Football for losing to Nigeria.
"Football is sometimes not favorable. We scored and Nigeria equalized in the last minute before winning it in extra time,"
Vasiljevic said during his post-match interview with the media.
"We thought it was enough to hold on for a win but it wasn't enough and we lost. I hoped to have a good result, but this is football for you.
"The tournament provides us with a lot of experience which will help us going forward because this is a tournament that gives a great experience to the players."
Nigeria will slug it out with Sudan in the Semi-Finals on Wednesday in Marrakech