Thomas Dennerby Is The New Super Falcons Coach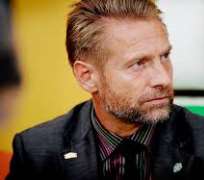 The Nigeria Football Federation have announced former Swedish Women team gaffer, Thomas Dennerby as the new Super Falcons Coach.
Dennerby will take over from Former Super Falcons Player, Florence Omagbemi after NFF decided against renewing her contract.
Dennerby was in charge of the Swedish Women Team from 2005 to 2012 he has also had stints with various Swedish clubs including Hammarby IF and Vartans IK.
Thomas Dennerby has expressed his delight after the NFF announced him as the New Coach of the Defending Champions of the AWCON in a Video posted on NFF Twitter Handle
"Hi, Thomas Dennerby here. I am extremely proud, happy and honoured to be the new head coach for the Super Falcons. It is really an exciting and responsible work," Dennerby said.
"Of course, I hope that my experience from many years in women's international football can contribute to the development and improvement of the team.
"Super Falcons is a team with real potential and they always live with high expectations. I can't wait to get started and I hope to see you very soon in Nigeria."
Similarly, NFF Second Vice President, Shehu Dikko has highlighted the reasons why the football federation decided to give Thomas Dennerby the Super Falcons job
"The NFF decided to go for a coach of the calibre of Thomas Dennerby for three reasons: to sustain and enhance the Super Falcons' dominance on the African scene; to take the Falcons and the other women teams to the next level of challenging for laurels at global competitions like the Olympics and the FIFA World Cup and; to generally lay the foundation for the real development of women's football in our country,"