Anthony Joshua sets sight on UK politics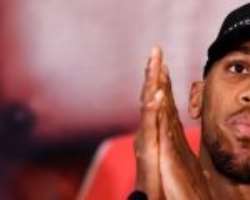 Anthony Joshua has revealed an interest in politics and believes he could have an input into the way the UK is run in the future.
In a report by (ESPN), the IBF-WBA world heavyweight champion is one of the most popular sports figures in the UK after knocking out all 20 professional opponents since winning gold at the 2012 Olympics.
Joshua could add a third belt to his collection if he beats New Zealand's Joseph Parker, the WBO titleholder, at Cardiff's Principality Stadium on March 31.
The British boxer is not planning on running for Prime Minister yet, but his interest in politics could see him one day follow in the footsteps of eight-weight world champion Manny Pacquiao and former WBC world heavyweight king Vitali Klitschko.
Sharing his experience and interest, Anthony Joshua said:
"I do have an interest but I'm not saying I can run the country but I do think that I could have a say," Joshua told Channel 4.
"I could have an input and I do think young kids coming up in this country should have a more of a say of what's going on.
"I think that the county's moving at such a rapid pace that some people that are older have been in power do need young creative minds to kind of influence what is happening in the world and world matters.
"I've an interest and I have learnt a lot through boxing in terms of like world matters and what matters to me and what matters to the minority because that's where I come from.
"I do have a voice but remember I sacrificed education to follow a sporting career. So what I say isn't always going to be facts and my point of view isn't always going to be from an educational stand point but it will be from a reality, a realistic stand point.
"Because I didn't go to school I didn't educate myself, I haven't been in a class room, and I've been out on the streets with people every day since I was young."