Barcelona bid farewell to dressing room leader Javier Mascherano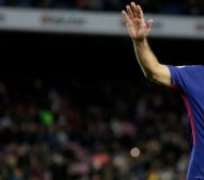 At the front of the Auditori 1899, about 100 metres away from Camp Nou, there were 18 trophies pristinely laid out. In front of them sat the Barcelona first team squad, including a suited Lionel Messi and former players Carles Puyol and Eric Abidal. To the left of them, sat the Barcelona board, headed by president Josep Maria Bartomeu. To their left, there were around 100 journalists. Everyone had come for the same thing: to say goodbye to Javier Mascherano.
If you had told Mascherano back in 2010, when he joined Barca from Liverpool for €24 million, that he'd be receiving such a send-off seven-and-a-half years later, he wouldn't have believed you.
"I lasted longer than I thought," the Argentina international admitted at his farewell event on Wednesday, holding back the tears. "I arrived seven years ago to fulfil a dream and now it's time to wake up. The dream's over. It's time to say goodbye."
Barca confirmed one of the January transfer window's worst kept secrets this week: Mascherano is off to China. He will be reunited with Manuel Pellegrini — who coached him during his emerging years at River Plate — at Hebei Fortune. The Chinese Super League side will pay €5.5m for the transfer.
Mascherano, 33, leaves having made over 300 appearances for the club and won 18 trophies — although he didn't really contribute to the 18th, the 2010 Spanish Super Cup laid out at the front of the Auditori 1899 — including four league titles and two Champions Leagues.
But it's the way he rose to the challenge of becoming a Barca player and the words of his teammates which reveal more than any of his achievements on the pitch.
In a leaving video, Jordi Alba thanked him "for all the advice" he's given him over the years and Luis Suarez said he will never forget the "chats and anecdotes" they have shared together. Samuel Umtiti spoke about how much he's learned from him and Lionel Messi said: "Everything we have done together at the club, the good and the bad things, will stay with me. It's been beautiful to share so much with you."
Iniesta added: "It's been a real privilege to share so many things with you. Not just the titles, but the day-to-day stuff, our chats and the things we've always talked about. I share a lot with you, the way you understand sport and life in general. I am so very grateful to have been able to share a dressing room with you."
Mascherano's input at Barca extends beyond the pitch. He's one of the leaders (if not the leader) in the dressing room, voted one of the club's four captains by his peers, ahead of Pique, who as an experienced La Masia graduate would usually be a certainty for the role.
Every time he plays, those same qualities which see him so highly regarded by his teammates — professionalism, leadership, commitment and understanding — are evident on the pitch. Even this season, in downtime after goals or when there's a stoppage in play, it's his ear coach Ernesto Valverde spits instructions into.
So why leave?
"Sometimes you have to accept the reality," Mascherano admits, having seen his place in the side gradually taken by Umtiti over the last 18 months. "I'm not the player I was. It's normal, natural. I needed to make this change. I didn't feel like I could revert the situation here. The quality of the centre-backs in the team is so high."
Mascherano has always maintained that you need to know when to leave a good thing. Why hang about and risk souring the relationship if you don't feel you have as much to offer anymore? Why not go in search of regular football in the months leading up to a World Cup, your last with your country?
Not that it makes leaving any easier, but it makes it feel right. Especially when it was never meant to last this long.
"The hardest thing about playing for Barcelona is that you know that one day you will have to leave," he said.
"But I feel privileged, fortunate for everything I have been able to experience here. I never imagined I would stay here for so long and be part of the club's history."
-(ESPN)