Chelsea find the best way to use Michy Batshuayi as central forward in 3-4-3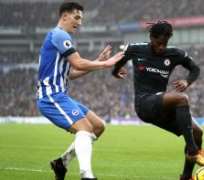 Michy Batshuayi played his first complete game in the Premier League against Brighton on Saturday. Chelsea finally developed a productive role for him as a starter, in what could be his last week at Stamford Bridge.
Alvaro Morata has started 18 of Chelsea's 24 Premier League games. Michy Batshuayi started on opening day and then on October 14 against Crystal Palace. In the three games in mid-December where Morata did not start, Antonio Conte preferred Eden Hazard as a false-nine in the 3-4-3 over Michy Batshuayi as the starting centre-forward.
Pedro's suspension along with Alvaro Morata's following the FA Cup tie eliminated the option of the false-nine 3-4-3 for use against Brighton. The limited success of that formation requires three experienced, individually inventive players on the front-line. Charly Musonda is not ready for that role. With both a winger and a striker out of the lineup, Conte had to use his two available wingers as wingers and his backup striker as a starter.
Michy Batshuayi had one of his best performances against Brighton: certainly his best start, resulting in his first Premier League complete game. Rather than forcing Batshuayi into the target man / reference point role, Conte employed Batshuayi as one of three forwards. A true "central" "forward."
The three forwards – Batshuayi, Hazard and Willian – played their best football as a frictionless, ego-less unit. There was no hint of forcing the ball to Hazard to let him drive in one-on-one, nor forcing it to Batshuayi by virtue of his nominal position. Once the ball reached one of them, their interchange was all about finding the best opportunity to take the best shot. It did not matter who took it.
Michy Batshuayi thrived as the centre – not the focus, but the physical centre – of this tactic. When he received the ball with his back towards goal his hold-up play was effective because he was looking for the pass to an open winger on either side or a supporting midfielder coming central, rather than forcing a turn and low-probability shot. By opting for the pass rather than taking it upon himself to score, he could introduce more footwork and trickery into his game than he normally shows when trying to dribble through traffic.
Chelsea's second goal was a dazzling illustration of this. Batshuayi was as deft as either of his partners. Any of them could have taken a step towards individual glory. Instead they kept the play moving until Willian had an opportunity no one could improve upon.
Conversely, Batshuayi's weakest moments came when he tried too hard to score himself. These were the drawn-out turns, the low-probability shots and the exasperated teammates waiting in space.
Batshuayi's impatience in such situations may contribute to Antonio Conte's frustrations. A pass in those moments could have let to a better shot for Batshuayi, and even a goal. But more importantly, a pass would have led to a better scoring chance for Chelsea, regardless of whose foot had the final touch.
Michy Batshuayi's role against Brighton was similar to how Diego Costa played in the centre of the 3-4-3 last season. If Costa had his back to goal he was looking for the pass option more than the shooting option. His shots usually came after an extended build-up or on a transition, usually on the end of a pass from Cesc Fabregas. Rarely did he go from having his back to goal to having a quality shot without involving his teammates in the process.
Two questions remain after this game. First, did Antonio Conte develop this "new suit" for Michy Batshuayi in the 3-4-3, or is this simply the first game where Batshuayi fully embraced the role? The latter would go a long way towards explaining Conte's reluctance to count on him as a backup starter.
Second, how many more opportunities will Batshuayi have in this formation? Aside from Alvaro Morata being out for only one game, Batshuayi is linked with any number of January moves. AS Roma cannot afford to lose their top scorer, Edin Dzeko, and Emerson Palmieri mid-season without a replacement. They will need to replace Dzeko and Batshuayi could be an instant starter there, despite Roma's concerns about Patrik Schick.
If the Roma deal goes through by Tuesday as some outlets are suggesting, Batshuayi may not even be on the bench to face Arsenal on Wednesday.