Boboye - Plateau United Ready To Defend NPFL Title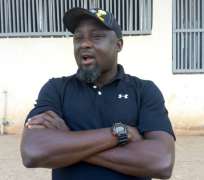 NPFL Defending Champion, Plateau United are working hard to defend the title they won against all odds last season according to their coach, Kennedy Boboye.
Boboye Guided Plateau United to their first ever NPFL Title.
The NPFL title is difficult to defend,Rangers won it the previous season they struggled to repeat the same performance that endeared them to many Football lovers.
"We have put the title-winning season behind us. It was a great feeling and I must say we have danced, celebrated and enjoyed all the glory that comes with winning the title, now it is time to get back to work.
"So, we have made up our minds and psyched up ourselves to believe it's a fresh start and new title chase. We intend to fight like we have not won the trophy before,"
Plateau United opened the 2017/2018 season with a visit to Nasarrawa United in Lafia . Boboye is hopeful his team will start the new season on a winning note.
"We are currently camped in Abuja and that is ahead of our first game against Nasarawa United. We know them and they know us and we also know every team will want to beat us now after we surprised everyone to win the title last season; so, we are preparing like it is a final and we know a win in our first game of the season will be a great boost for us," he said.