Conte replies Mourinho after clown comments: You must be "senile" for not remembering your past antics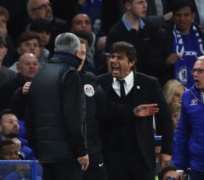 Antonio Conte  has hit back at Jose Mourinho after the Manchester United manager branded some of his managerial counterparts as "clowns" for their overzealous actions on the sidelines.
Mourinho was asked on Thursday  about his hunger to carry on with the Manchester United job , to which he replied: "Because I don't behave as a clown on the touchline, it means I have lost my passion?" Mourinho said. "I prefer the way I am doing it. Much better for my team and myself. You see it every day in the way a person is dedicated to his work, not what you do in front of the cameras."
Now he could have been referring to any one of Conte,  Jurgen Klopp  or  Pep Guardiola , or all three, with the managers of Chelsea, Liverpool and Man City all extremely animated on the sidelines.
Speaking on Friday ahead of Chelsea's FA Cup clash at Norwich City on Saturday, Conte accused Mourinho of having senile dementia when it comes to remembering how he used to act.
"I think he has to see himself in the past – maybe he was speaking about himself in the past. Maybe, sometimes, I think that someone forgets what's said in the past, which is his behavior," Conte said. "Sometimes I think there is, I don't know the name, but demenza senile… when you forget what you do in the past."
Conte is bang on the money here.
Mourinho's antics in 2004 when he ran down the sidelines at Old Trafford celebrating a goal for his Porto team, or in 2013-14 when Chelsea scored a late winner against PSG at Stamford Bridge, or his celebrations at Anfield after a Chelsea win in 2014, or when he poked Barcelona's coach Tito Villanova in the eye in a scuffle when he was Real Madrid manager, or …
You get the picture.
Follow @JPW_NBCSports