AFRICA'S ABANDONED FOOTBALL LEGEND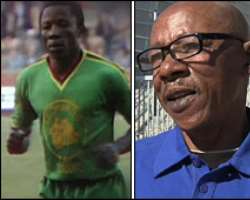 Ndaye Mulamba hardly stands out in a crowd. He's a shuffling, stern, 60-year-old Congolese refugee, who struggles to speak English, and who passes unnoticed through the impoverished, crime-ridden townships that surround Cape Town.
But "Volvo" Ndaye is one of Africa's football legends, a dazzling striker who helped Zaire to qualify for the World Cup back in 1974, and who still holds the record for scoring most goals in a single African Cup of Nations tournament – scoring nine times in 1974.
Things started to go wrong for Ndaye in the mid-1990s, as Zaire descended into chaos and war. Eventually it would change its name to the Democratic Republic of Congo. Soldiers, who suspected the football hero might have cash to spare, shot him in the leg. The bullets are still there. Eventually Ndaye said he had to flee the country for his life, and ended up in Johannesburg, then Cape Town "with nothing".
"I had no family, and no money. All I could think about was where to get food. I felt abandoned [by the footballing community]," he said.
I spent the day with Ndaye last week and heard how he'd been rescued from the street by a South African family, how he'd started to coach local amateur football teams, and how he'd finally met and married a local woman. "It's like a circle," he said in French, searching for the right phrase to explain his long, tortuous journey. "But now I'm happy the World Cup has finally come to Africa."
Fifa seems to have taken Ndaye under its wing, but he told me he still doesn't have tickets for any of the matches in Cape Town, and plans to watch "on television instead, like everyone else". Although the DR Congo is also supportive, the country's football federation is apparently less keen to help Ndaye. "There are problems there," Ndaye said with a grunt.
We spoke about the 1974 World Cup. "I cry when I think about those days," he said. But he also talked about the circumstances of Zaire's notorious 9-0 defeat at the hands of Yugoslavia. He said prior to the match each member of the team had been promised $45,000 but that an official with the Zairean team had taken the money and left Germany. As a result, Ndaye said, "We decided not to play." Hence the result. When I suggested that might seem rather unpatriotic to some, he shrugged and said: "Of course it is about money."