SLOVENES VOTE IN REFERENDUM ON CROATIA BORDER DEAL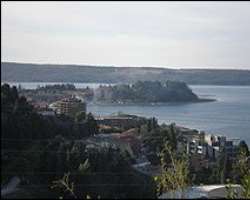 Slovenes are voting in a referendum on whether to accept a deal on a border dispute with Croatia.
The agreement, signed last year, allowed international arbitrators to resolve the issue.
The border dispute concerns the small Bay of Piran in the Adriatic Sea, and dates back to the break-up of Yugoslavia in 1991.
It has soured relations between the two countries, and led Slovenia to block Croatia's bid to join the EU.
Parliaments in both Slovenia and Croatia approved the deal, but the centre-right opposition in Slovenia has branded the agreement as a "capitulation" that favours Croatia.
Slovene Prime Minister Borut Pahor accepted the opposition's demand for a binding referendum in March.
The BBC's Balkans correspondent Mark Lowen reports that polls suggest the likely result of Sunday's vote appears too close to call – but if rejected, Slovenia's government will again face pressure to delay Zagreb's EU negotiations.
'Setting an example'
In the past, Croatia has called for the border to be drawn down the middle of the bay.
But Slovenia, which has a much shorter coastline than its neighbour, had feared this would deny its ships direct passage to the high seas.
Slovenia exercised its veto on Croatia's EU accession talks because it said Croatia had provided maps and documents in negotiations that failed to take account of Slovenia's position.
Croatia hopes to become the second former Yugoslav state to join the EU in 2012.
Our correspondent says that by appearing to agree on a solution to the row last autumn, both countries tried to set an example to other parts of the Western Balkans: that through compromise and a shared European future, bilateral issues can be resolved.
The hope was to influence ties between Serbia and Kosovo, whose declaration of independence from Serbia is rejected by Belgrade, or between Bosnia and Serbia, whose relations have remained tense since the Bosnian war.
Polling stations are open from 0700-1900 (0500-1700 GMT).