Award or not, my life comes first – Bimbo Akintola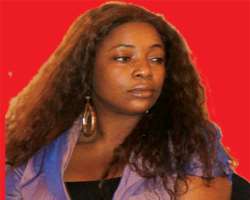 Bold and daring, Bimbo Akintola was one of the nominees for this year's AMAA Best Actress of the Year. Unfortunately, she could not make it to the award ceremony held in Yenagoa two months ago.
She lost the crown to her Ghanaian counterparts, Lydia Forson, Na Ashorkor Mensah_Doku and Jackie Appiah who emerged joint winners of the coveted prize.
Speaking for the first time about the award, the unperturbed actress said, "I really didn't think about the award at all. It did not matter to me, in respect of who emerged winners of the award or who did not win it."
Bimbo disclosed that while the award night was held in Yenagoa, on April 10, she was on a hospital admission for an disclosed illness.
"I'm aware that I was nominated for the award, but about the same time the award night was on, what mattered to me then was to get well and leave the hospital bed."
The actress who started her acting career as an undergraduate, more than a decade ago, when she starred in that highly successful Yoruba movie, Owo Blow, in 1995, said she has taken time off the screen to work on a number of projects.
She also reiterated her commitment to building a virile movie industry.
"I have been pretty busy putting my house in together. Currently, I have my soap running on AIT called, "Circle of Tree'. I'm also working on another soap that will be hitting the air before the end of the year. Like I said, I'm putting my production outfit in place. I cannot face the challenges of running my production outfit and at the same, going on set. I prefer to sit back and run my own outfit myself," she muted.
For Bimbo, as the industry is no longer lucrative as it used to be, many practitioners are today trying their hands in producing films and soaps, either to make the difference in the industry or for material purpose.