Devastating counter attacking helps Man United down Arsenal 3-1 at the Emirates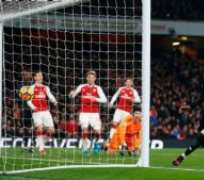 Three thoughts from the Emirates as Manchester United defeat Arsenal 3-1 in the Premier League.
1. Man United do their work on the counter
Jesse Lingard and David De Gea produced stunning performances at both ends of the pitch to inspire Manchester United to a crucial victory at Arsenal, but the win came at a heavy cost, with Paul Pogba earning a red card that will rule him out of next week's highly anticipated clash against rival Manchester City.
Lingard's two goals in an effervescent display, combined with a series of world-class saves by De Gea, were the key factors in United's 3-1 win at the Emirates.
But the dismissal of Pogba midway through the second half for a crude studs-up challenge on Hector Bellerin took the shine off United's win, with the France midfielder now facing a three-match suspension for violent conduct.
United play league leaders City at Old Trafford on Dec 10, and Pogba's absence will leave a hole in Jose Mourinho's team, which the manager will find impossible to fill.
But United will at least go into the derby no more than eight points behind their neighbours, who play West Ham at home on Sunday, after claiming their first win at a top-six rival since Mourinho took charge in 2016.
The win also ended Arsenal's 12-game winning streak at the Emirates and left Arsene Wenger's men 12 points off the top, with their title hopes as good as over.
United deserved their win, however, with their counter-attacking game plan working to perfection.
Lingard, who scored a solo goal at Watford on Tuesday, was central to the plan coming off with his tireless running and energy creating havoc at the back for Arsenal.
Arsenal were 2-0 down inside 12 minutes after goals by Antonio Valencia and Lingard, and although they responded well to dominate possession, the damage had already been done.
Alexandre Lacazette had given them hope with a goal early in the second half, but Lingard's second after a breakaway with Pogba sealed the win.
But even in victory, United lost thanks to Pogba's costly dismissal.
2. De Gea does his best Schmeichel impression
They used to say that Peter Schmeichel won an extra 10 points every season for Manchester United due to his heroics in goal during the 1990s and David De Gea took a leaf out of the "Great Dane's" book with his performance at the Emirates.
Schmeichel famously threw up the barriers with an unforgettable performance in a crucial 1-0 win at Newcastle in 1996 which proved decisive in United overtaking Kevin Keegan's team in the title race.
This game did not have the same significance for United, but a defeat would almost certainly have ended any lingering hopes of catching Manchester City, so De Gea's array of saves were up there with Schmeichel's at St James' Park.
The Spaniard used every part of his body to repel the Arsenal onslaught, making 14 hugely important saves, with one acrobatic effort preventing a Romelu Lukaku own goal late in the first half.
There was a close-range block to deny Alexandre Lacazette and double saves from Hector Bellerin and Sead Kolasinac and then a double save on Lacazette and Alexis Sanchez after the break, which was arguably the best of the lot.
Photo by Julian Finney/Getty Images
Further saves from Sanchez and Alex Iwobi frustrated Arsenal and denied them a victory and the chance to extend their winning home run to 13 games.
De Gea's future will come under scrutiny again at some point, with Real Madrid never far away from links with him, but on this evidence, United should give him whatever he wants to stay.
3. Arsenal's defenders not as committed as United's
The reason Arsenal lost this game was not because of the heroics of David De Gea and Jesse Lingard, rather the failure of their defenders to display the same tenacity and commitment as their United counterparts.
United's first two goals were down to sloppiness and fatal mistakes by Laurent Koscielny and Shkodran Mustafi, with both giving the ball away too easily.
But even after losing the ball, Arsenal had chances to snuff out the danger, only for their other defenders to half-heartedly attempt to block United.
Nacho Monreal had time and the opportunity to close down Antonio Valencia before his opener, but allowed he United defender the chance to pick his spot and shoot.
In contrast, United's three centre-halves and two wing-backs were prepared to put their body on the line time after time in order to protect De Gea's goal.
Marcos Rojo and Chris Smalling were brave and determined, Victor Lindelof fully focused on shackling Alexis Sanchez, with Ashley Young showing his defensive nous by heading a Mesut Ozil free kick off the line.
United's back five were dogged and bold, but Arsenal's defenders were too quick to pass the buck.