Mourinho: I have a 'dilemma' over playing Paul Pogba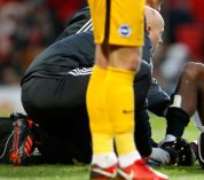 Manchester United boss Jose Mourinho has admitted to having a "dilemma" over Paul Pogba.Pogba started United's fortunate 1-0 win over Brighton at Old Trafford on Saturday and completed his first 90 minutes since returning from a hamstring injury a week ago.Pogba missed seven Premier League games with the problem and two of those games ended in defeat for Mourinho's men.
And after the win over Brighton Mourinho admitted he is still concerned over the Frenchman's fitness and his fatigue levels heading into winter.
"It's hard for me to be on the bench and don't know when Pogba has to be changed," said Mourinho.
"I want to play [Marouane] Fellaini earlier, I want to play Fellaini with Pogba.
"But then I don't know if Pogba is happy to be on the pitch under the fatigue line, or if the fatigue line has been reached.
"It's hard to be on the bench with these dilemmas."
Manchester United travel to Watford on Tuesday night, before facing Arsenal, CSKA Moscow and Man City in the next two weeks.