Chelsea remain best equipped among chasing pack to prevent Man City's title procession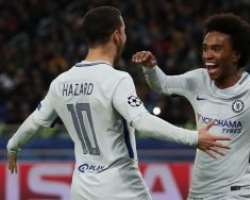 he Premier League season can be summed up as follows: even when Manchester City's rivals face each other, Pep Guardiola wins.
Antonio Conte certainly felt that way at Anfield, the Chelsea manager's content with a point contaminated by concern at how little dent it made into City's lead.
"Manchester City's path is incredible, no?" said Conte.
"I think Manchester City in this season is a strong team. Also, last season, Manchester City was a fantastic team. Then after the transfer market, they bought their first targets and improved a lot.
"They can do this also in January maybe, and in the future. For this reason we must be worried because if we want to compete with Manchester City we have to work and then make the best decisions in the transfer market."
Such references to first targets sound suspiciously barbed. If Chelsea fail to defend their title, Conte can argue ground was not lost on weekends such as this, but during the serene recruitment period of June and July.
W hatever his interpretation, he can find reassurance from a game which hinted the champions are best equipped among the chasing pack to prevent a title procession.
The late, fortuitous circumstances of Chelsea's draw – secured by the 86th minute Willian cross he later declared a deliberate chip – will not disguise how good the visitors were. It may have taken them longer to recover from a difficult start this season, but they are comfortably the most impressive visitors to this stadium so far.
Their organisation, resilience and capacity to turn defence into attack with an Eden Hazard shuffle ensured that while Liverpool were exasperated with the manner in which they dropped two points, in truth they did well to compete for so long against superior opponents.
But for the excellence of Cesar Azpilicueta, Liverpool may have added to Mohamed Salah's opening goal before their defence succumbed
  E qually, once Cesc Fabregas and Willian were introduced Chelsea took control and looked likely winners.
Not for the first time, Liverpool showed that while they continue to improve they still have much to learn. Some believe they are not absorbing information quickly enough.
Essentially, Klopp was 30 seconds in Seville and four minutes here from enjoying one of his most satisfying weeks in charge.
Instead, rather than playing down optimism in a season in which they have conceded just two home league goals, are unbeaten in Europe, and their only Premier League losses came at City and Spurs, he continues to repel the notion every setback is an asteroid strike.
Liverpool are so vastly better now than they have been in six of the last eight seasons, one wonders if a mass re-education programme broadcasting much of the Premier League dross witnessed at Anfield since the start of the 2009 campaign will offer a timely reminder of progress. This is a very good Liverpool team that is still just not quite good enough.
Jurgen Klopp has words with referee Michael Oliver after the game  Credit: Getty Images 

K lopp still has problems to solve, but they are healthy. Far better to work out how to protect leads against top class opponents than to lack the quality to get into such advantageous positions.

One theory is Liverpool are not streetwise enough.
Klopp argued referee Michael Oliver ignored his plans to introduce Adam Lallana on 84 minutes because he was time-wasting. The fourth official offered six opportunities for the change to be made, but Klopp was still in conversation with the player as Oliver instructed Joe Gomez to get on with a throw-in.

"We didn't think about it (time-wasting) at all," Klopp responded when asked about the 'dark arts'.

"The referee thought we do it. Watch a few of our games and you see that we don't – we have one red card all season, and that was unlucky."

It was put to him that such gamesmanship would help. The pace of Liverpool's game, the speed with which they take throw-ins and set-pieces, and the lack of time their physio spends on the pitch in the closing moments contrasts visibly with those sides more adept at killing time.

"We try to close games down, but we don't do it in a cynical way," said Klopp. "The day when somebody thinks like this (in my teams), with not being a proper sportsman and being fair, then I stop. If it's not ok any more that we try our best, then it is something wrong."

The tone of both managers was in keeping with the game. There was much to enjoy, plenty to encourage, but ultimately neither ended any closer to their ambitions.