Crystal Palace 2 Stoke 1: Mamadou Sakho strikes late to giver home team rare victory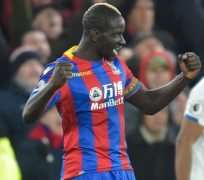 Mamadou Sakho, appointed captain of Crystal Palace for the first time, scrambled home a last-minute winner to give Selhurst Park renewed hope of beating the drop. If it sounds like a moment that was destined to happen, it certainly did not feel that way.
Roy Hodgson admitted his side had not played well and that Stoke had looked well set to claim a point from this exciting game. Mark Hughes, not surprisingly, agreed, disappointed that his team's good work and an exceptional opening goal from Xherdan Shaqiri had been allowed to go to waste. But, thanks to the Frenchman, three points did end up in south London and for Hodgson it continues an upward trend.
"I don't particularly want to say this is a catalyst. We've given performances better than today but not always had victories," Hodgson said. "The first seven games I draw a line over because it was seven games, no points, no goals and not a lot of encouragement. The last six games, though, we've turned things round enormously.
"What today's result means is that we now know what we have to keep doing for the next 25 games.
"If we do survive people might say this was a turning point but there's no need for me to talk about it, just don't slip from that level."
A first half characterised by hesitancy and a lack of composure was also full of half chances, with Shaqiri twice coming close to opening the scoring and, at the other end, James McArthur seeing his close-range effort saved at point-blank range by Lee Grant.
Hodgson's half-time decision to replace the Scotsman with Christian Benteke changed the dynamic of the match, allowing Palace to play longer and with greater impact on crossed balls. Ultimately both Palace's goals were made possible by this shift.
Shaqiri opened up the match with another sparkling strike to add to his collection. The Messi of the Alps looked particularly suited to his nickname on this occasion, collecting the ball at halfway in the 53rd minute and driving straight at goal. His close control denied Palace any chance of a challenge, his left foot struck the ball unerringly from the edge of the box and inside Wayne Hennessey's near post.
It was a goal that sucked the air out of the stadium but within 60 seconds the home side were level. Benteke won the long ball and it bobbled out to Andros Townsend on the left-hand side. The winger cut inside on to his right and dipped a ball across the box. It eluded a clutch of Stoke defenders but not Ruben Loftus-Cheek, who scored his first goal for the club at the back post.
"People thought he was a lad who can do things in fits and starts," said Hodgson of the England youngster. "He's not, he's a very talented player who can make an impact throughout the game."
The match looked like it was fizzling out until Shaqiri, with seconds remaining of normal time, hit another cross that Ryan Shawcross – inches from the line – contrived to steer away from goal. Into added time and the ball went up the other end, this time Wilfried Zaha contrived the cross and, after a knockback from Yohan Cabaye, Sakho poked it home. "Yes, it's fair to say I'm wondering how we lost that," Hughes said. "We needed to deal with balls coming in but we didn't do well enough. I bet Roy is pleased."