Man City rack up another win but Stones injury concern for Guardiola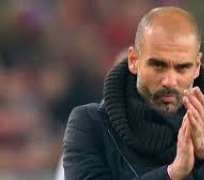 Three quick thoughts from Leicester 0-2 Manchester City in the Premier League on Saturday afternoon.
1. Nobody can stop City slickers
Leicester City never saw it coming. After 44 minutes of redoubtable defending, Manchester City passed through them like a pale blue spectre. All they could do was stand and watch. David Silva played the ball to Raheem Sterling, he exchanged a one-two with Kevin De Bruyne and slipped the ball through to Silva as the Spaniard burst into the penalty area. Kasper Schmeichel raced out, Silva slid the ball across to Gabriel Jesus and the Brazilian tucked in for what might be the easiest finish of his career. It happened in a flash. One minute Claude Puel's Foxes were within sight of the half-time break, and then just like that, they were chasing the game.
You never want to chase the game against Manchester City. Chasing the game leaves you open to the counterattack, and few teams do that better than the league leaders. Two minutes into the second half, Vicente Iborra rattled the post after a cleverly worked free kick. Barely 30 seconds later, De Bruyne rippled the Leicester net with a glorious effort. Game over.
You had to feel for Leicester. Puel had them drilled and focused. They had a new shape, caused Pep Guardiola's side problems and will rue referee Graham Scott's decision not to dismiss Vincent Kompany in the second minute when he took out a goal-bound Jamie Vardy. But they were cut down either side of half-time by two sensational attacking moves.
Leicester, as is their way, stubbornly refused to yield. City spurned chances that might have killed the game as a contest and they risked punishment via Vardy, who endured a running battle with the assistant referee's flag. It could, and probably should, have been a more comfortable afternoon for Guardiola. But given that the Foxes couldn't put a shot on target, that Tottenham's title challenge took a grievous blow at Arsenal and that Manchester United had to kick off against Newcastle knowing they were 11 points behind City, perhaps it was already quite comfortable enough.
Victoria Haydn/Man City via Getty Images
2. Stones injury a concern
As City continue what seems an inexorable march to the title, there are straws to be grasped by their rivals. John Stones, whose improved form has been one of the understated aspects of City's start to the campaign, was withdrawn in the first half with what appeared to be a hamstring injury. He may now be out until after the New Year.
With Nicolas Otamendi suspended for this game, Guardiola gave a start to Kompany, but his late foul on Vardy in the second minute highlighted the fact his powers are waning. And Kompany, of course, is no stranger to the treatment table either. It's no secret Eliaquim Mangala's future at the club is uncertain. This may be a chance for him to force his way into his manager's thinking. But it may also prove why the club has been open to offers for his services for some time.
City went nine points clear of Chelsea at the top of the table at full-time, which is an exceptional lead at such an early stage of the season. But it is still so early. There will be many twists and turns before May, and there are multiple competitions to cause fatigue or distraction. City are brilliant, but they haven't won anything yet. Stones' injury should serve as a reminder that they are not invincible. Imagine if they lost Otamendi now …
Plumb Images/Leicester City FC via Getty Images
3. Puel's plotting comes to nothing
This was Puel's first defeat as Leicester manager, but it was interesting to watch how he set up his team. Noting how Ederson likes to start attacking moves with short goal kicks, he shrewdly deployed men to shut down the passing lanes, forcing the Brazilian to kick the ball long — a move quite at odds with City's general strategy.
Puel also left out Shinji Okazaki and fielded three players usually considered to be wingers. Riyad Mahrez took the right flank, Demarai Gray the left, while Marc Albrighton scuttled around in the middle. Iborra, nearly two metres of defensive midfielder, was pushed up to support Vardy and to win aerial balls against Fernandinho, which he did frequently.
It was Iborra's passing ability that so nearly gave the game a dramatic start. He threaded a gorgeous ball through to Vardy that would have put the England striker through on goal had Kompany not swiped his legs away. It could be argued there was cover, in that two City players were in range, but being in range of Vardy doesn't necessarily mean you can stop him. The home supporters certainly felt that way, loudly jeering the resultant yellow card and booing Kompany for the rest of the game.
Leicester might have got back into the game if only Iborra's second-half shot had hit the other side of the post. But for all of Puel's plotting, it was not to be.