'Ronaldo is more selfish than me' – Benzema has no problem with Real Madrid team-mate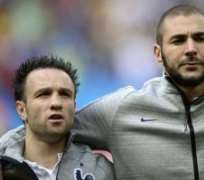 Karim Benzema thinks Cristiano Ronaldo is more selfish than he is, but feels it works to Real Madrid's benefit and has no problem with his superstar team-mate.
The former France international has played with Ronaldo for nearly a decade, the duo both joining the La Liga champions before the 2009-2010 season.
Benzema has had plenty of success during his time in Spain, though he believes his accomplishments have been overshadowed by Ronaldo. However, he has no issue with that, and says he and the Portuguese have a good relationship.
"At Real, I score, but when the guy who is next to you scores 50 per season (you can not do anything)," Benzema told Canal+ .
"It's different from how I played at Lyon. I just like football and winning titles. I'm having fun.
"Ronaldo and I, we get on well. I like playing with him. He likes to play with one touch of the ball. He is more selfish than me, but that's normal. That does not bother me. Finally, it's good for the team."
That he has managed to stay as long as he has at Madrid has admittedly been a bit of a shock for Benzema, though he believes much of the drama around him at the club is a media invention to help sell stories. Rather than worrying about that, the striker says he focuses on the game.
"I did not imagine that I would stay at Real Madrid for nine years," Benzema said. "When I was at Lyon, I imagined moving to Real to win titles. The most difficult thing in Madrid is the pressure.
"The debate about me? It's to sell papers. I got used to it. I focus on the football. With age, I have learned to stay calm."
Benzema also discussed his time under current Manchester United manager Jose Mourinho, who coached Real Madrid from 2010 through 2013, crediting him with improving him as a player through the expectations he demands of his charges.
"Mourinho helped me a lot. It's his character. It stings you every time and you surpass yourself on the field.
"He is a good coach."
Benzema, who has scored once in seven league appearances this season, and Real Madrid return to action November 18 against local rivals Atletico.